22.07.2011 » Caín Velásquez (UFC): "Cristiano Ronaldo is the best player in soccer"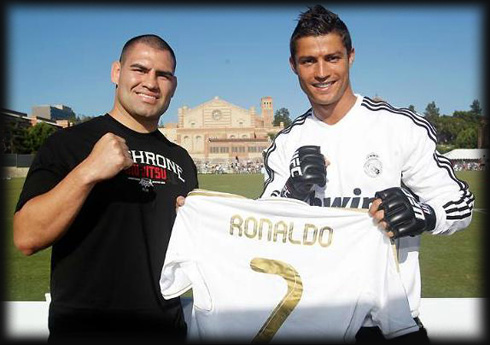 Cain Velasquez, current UFC heavyweight champion, showed up in UCLA to watch the last Real Madrid practice in Los Angeles. Cain Velasquez believes that Cristiano Ronaldo is the best player in the World in soccer.
Mexican American fighter Cain Velasquez, has an impressive record (9-0-0) in the UFC (Ultimate Fighting Championship). This means he's the current UFC heavyweight champion, having won all of his 9 fights so far. Similarly to Cristiano Ronaldo, Velasquez has a genuine ambition to be the best on his sport and has fought and beaten many great names such as Brock Lesnar (in UFC 121) or the Brazilian Antonio "Minotauro" Nogueira (in UFC 110).
There are a few physical differences between these two great athletes that we can outline as a curiosity. Despite the picture shown on this page may suggest a big difference in heights, Cristiano Ronaldo is 1,86m tall and Cain Velasquez 1,85m. A big difference lies in their weights, since the American Mexican fighter has 109kg and Cristiano Ronaldo has around 84kg. However, they both share one thought in their minds and that's being the best in their sports.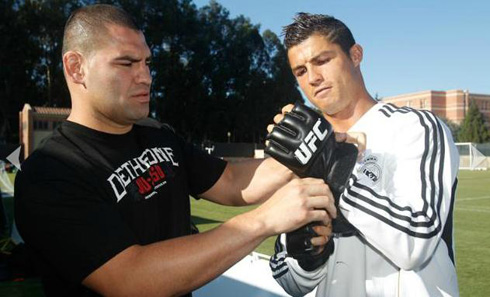 Cain Velasquez: "I admire Cristiano Ronaldo a lot. In my oppinion, Ronaldo is the best player in soccer.", reckonized the Mexican American. As a sign of their friendship, Cain Velasquez and Cristiano Ronaldo traded gifts. CR7 received a pair of UFC training gloves, returning the gesture by handing to Velasquez a Cristiano Ronaldo shirt from Real Madrid, with a customized inscription: "To my friend Velasquez, with friendship."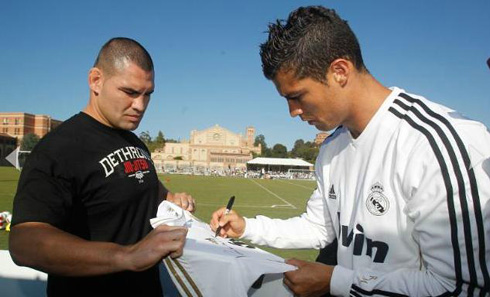 Real Madrid last match in this United States pre-season tour is against the American team Philadelphia Union. The match will be played in Philadelphia, on dawn of the 24th of July (European Time). José Mourinho is expected to rotate the team, but there's still no indication so far regarding Cristiano Ronaldo starting in the first or second half. You may watch Real Madrid vs Philadelphia Union free livestreams and Cristiano Ronaldo playing, inside the Live Games Streams section. Countdown clock for the game is displayed in the top right corner of this site.
When does Real Madrid vs Philadelphia Union game starts in your country?
Portugal/England: 02:00 AM (Sunday): GMT+1
Spain: 03:00 AM (Sunday): GMT+2
United States (Los Angeles): 18:00 PM (Saturday): GMT-7
United States (Philadelphia): 21:00 PM (Saturday): GMT-4
Sources: ronaldo7.net/ufc.com/realmadrid.com

comments powered by