21.07.2011 » Chivas 0-3 Real Madrid. Ronaldo scores a sensational hat-trick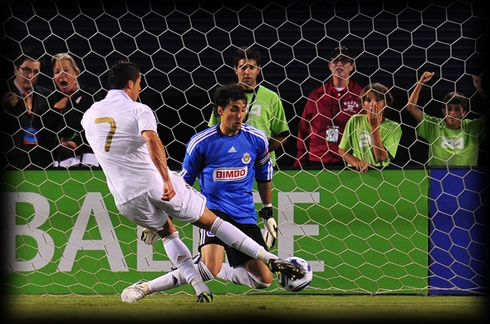 Real Madrid is still warming up, but from what we could watch over the last days, José Mourinho's men are already in great shape. Cristiano Ronaldo left his mark in last night match, scoring an impressive hat-trick, which allowed Real Madrid to beat Chivas Guadalajara by 3-0.
Watch Cristiano Ronaldo photos from Chivas Guadalajara vs Real Madrid
Watch Cristiano Ronaldo goals and hat-trick against Chivas Guadalajara:
Real Madrid added a second win to their pre-season record, after beating Chivas Guadalajara by 3-0, last night in San Diego. Man of the match was without any doubts Cristiano Ronaldo, who scored an hat-trick and already has 4 goals in 2 matches in this 2011-2012 pre-season tour. However, the game wasn't that easy as the final score could imply or suggest. The Mexican side was definately a tougher nut to crack, when compared to the previous Real Madrid opponent, L.A. Galaxy. Chivas presented a very high competitive aggressiveness, a bit unusual to see in friendly matches, putting Real Madrid against the ropes in a few moments of the game.
Another pleasant surprise from last night match was Fábio Coentrão's great performance as center midfielder. The Portuguese player replaced Xabi Alonso, who was said to be a starter in this match, but ended up by complaining about pains on his back and decided not to risk his condition. Fábio Coentrão is showing the Spanish press how versatile he is, and how good of an investment he'll end up being, even with the price tag of 30 million euros. The Portuguese player plays at his best as a left-back, but he also fits very well when playing as a winger and more recently as a center midfielder, giving a different dynamic to the team when he gets the ball on his feet. Cristiano Ronaldo commented about the newcomers in Real Madrid and confessed how impressed he is so far.
Cristiano Ronaldo: "The rookies are really surprising me. They are working tremendously well." CR7 scored his hat-trick in only 10 minutes during the second half, but that wasn't enough to impress the Portuguese star. "Three goals in 10 minutes? That's ok... But we have to keep working in order to be well prepared for the beginning of the season. This game has proved to be a good test and I'm happy because we won it.", said Ronaldo, moments after the game against Chivas.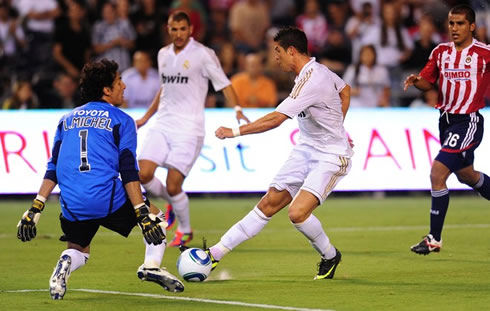 Cristiano Ronaldo first goal against Chivas Guadalajara originated in a great cross made by Karim Benzema, which the Portuguese read perfectly, allowing him to attack the space between the defenders agressively. CR7 then easily scored the first of the game, showing some fury and rage in the way, for the goal to have taken so long to arrive. The second goal would take place just a few minutes later, after Pepe got being fouled inside the penalty box and allowing Cristiano Ronaldo to calmly convert it. The third and final goal of the match was assisted by Ozil, and Cristiano Ronaldo had a great first touch crossed shot, scoring a goal very similar to the one against Czech Republic in the Euro 2008.
Real Madrid line-up against Chivas Guadalajara was the following:
Adán; Arbeloa, Varane, Ricardo Carvalho and Marcelo; Esteban Granero, Fábio Coentrão and Mesut Ozil; Kaká, Benzema and Cristiano Ronaldo.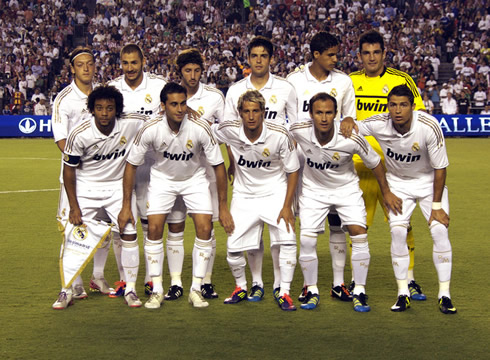 Real Madrid next and final match in this United States pre-season campaign/tour will be against one of the most powerful American teams, Philadelphia Union. The game will take place in Philadelphia, on the 24th of July (European Time). José Mourinho is expected to rotate the team, but there's still no indication so far about Cristiano Ronaldo starting in the first or second half. You can watch Juventus live stream, Philadelphia Union vs Real Madrid livestreams and Cristiano Ronaldo in action, inside the Live Games Streams section. Countdown clock for the match is displayed in the top right corner of this site.
Sources: ronaldo7.net/record.pt

comments powered by