14.07.2011 » David Beckham: "Cristiano Ronaldo is a phenomenon"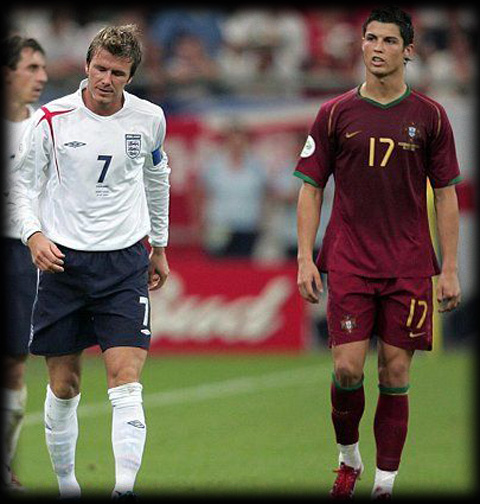 David Beckham and Cristiano Ronaldo share a few interesting facts. They both played for Manchester United in different times and they both wore the number 7 on their jerseys. Not only they can play as wingers, but they also shocked the World when they moved from Manchester United to Real Madrid. They are truly two of the greatest icons of this sports modern era.
While Cristiano Ronaldo and Real Madrid prepare the match against L.A. Galaxy, a few players took the opportunity to talk with the press and preview the match. One of them needs no introduction: David Beckham. The English player, who is a former Manchester United (1993-2003) and Real Madrid (2003-2007) player, talked to the journalists about the friendly match he'll play for L.A. Galaxy against Real Madrid, but also shared his oppinion on his old team, José Mourinho and Cristiano Ronaldo.
David Beckham has recently recovered from an injury on his back and confirmed that he'll be able to play against Real Madrid this weekend. Last year, when Real Madrid was also in Los Angeles doing the pre-season, Beckham was forced to miss the game, and therefore, this year the English player confessed he didn't want to lose the opportunity to play against the likes of Cristiano Ronaldo and Iker Casillas and meet some old friends. Below you may watch a short video of Ronaldo's arrival to Los Angeles and to the Beverly Hills hotel, as well as many fans running into him to ask for autographs and photos:
Beckham: "Real Madrid is building a very strong team, with many important players. This team makes frightens and strikes fear into everyone! I have no doubts that Madrid can win all competitions this season. Moreover, they have one of the best football coaches in the World. José Mourinho is a genius and he showed that in every team where has been at."
The former English National Team captain, confessed he's very excited about the match between Real Madrid and L.A. Galaxy, which will be played in the Los Angeles Memorial Coliseum. This match will take place on this Sunday early hours (03:00 (3AM) GMT+1; London Time), which means it will be on Saturday 19:00 (7PM) local time in Los Angeles. Remember that you may watch and follow livestreams for Real Madrid vs LA Galaxy inside our Live Games section. One thing is fore sure, Beckham won't miss the game for anything in the World: "I already recovered from the injury and I still have a few days left until the gameday. For me, it's not just another game. This is a special match. I'm really looking forward to talk again with Casillas and other top quality players such as Cristiano Ronaldo. I still have great memories from the times I played in Real Madrid."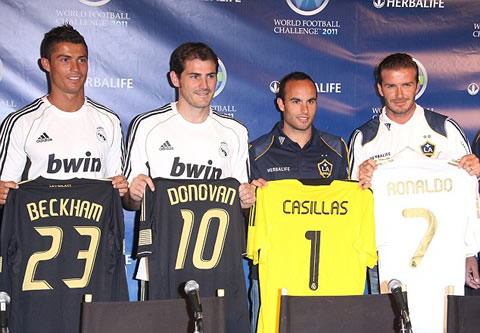 Cristiano Ronaldo and David Beckham should both start in the lineup on this match and the English player has no doubts when asked to describe CR7. Beckham: "Cristiano Ronaldo is a phenomenon and one of the best players in the World. I look forward to see him." Just before ending the interview, Beckham still found some time to confess that he would probably have retired at Real Madrid, if Florentino Perez (the man who brought Beckham from Manchester to Madrid) had stayed in the club. "If Florentino Perez had stayed back in 2005, I'm pretty sure I would have retired in Real Madrid." Watch the Real Madrid vs L.A. Galaxy press-conference video:
Remember that you can watch L.A. Galaxy against Real Madrid livestreams online, inside our Live Games Stream section, this Saturday night (USA localtime) / Sunday morning (in Europe). The countdown clock for the match is displayed on the top right corner of all pages, as usual.
Sources: ronaldo7.net/marca.com/record.pt

comments powered by