25.06.2011 » Neymar: "I admire both Cristiano Ronaldo and Lionel Messi"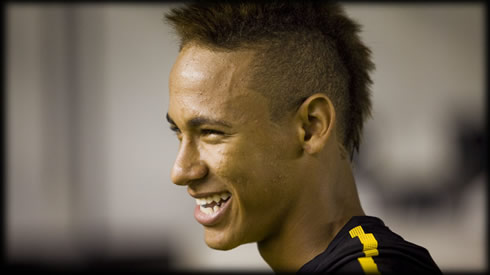 Brazil's most promising star, Neymar, said recently that he admires Cristiano Ronaldo and Lionel Messi and he hopes that he can reach their level in the future. However, in Neymar's opinion, Messi is the World's best player and is better than Ronaldo at the moment.
Brazilian wonderboy, Neymar, who just helped his team Santos winning the "Libertadores" last night, affirmed that he respects a lot both Cristiano Ronaldo and Lionel Messi. The Portuguese and the Argentinian are the World's maximum references these days, when it comes to make an assessment for any new player's potential.
Neymar: "I like both Ronaldo and Messi. But in my opinion, Lionel Messi is the best player in the World right now and I have no doubts on that. But in the other hand, Cristiano Ronaldo is also great, big and a very complete player." said the Brazilian prodigy to Spanish newspaper "As".
Neymar has been strongly linked with a transfer to Real Madrid in the last days and weeks. The possibility of Cristiano Ronaldo playing side by side with Neymar is very likely to happen, but for now, Neymar assumes he has no rush in making the move to Europe, despite several news about clubs being interested in signing him. Neymar: "I'm happy in Santos here in my country and I think I'm playing good football. It's probably not the right moment to move to Europe yet."
Sources: ronaldo7.net/abola.pt

comments powered by