24.06.2011 » Giampaolo Pozzo: "Alexis Sanchéz is like Cristiano Ronaldo"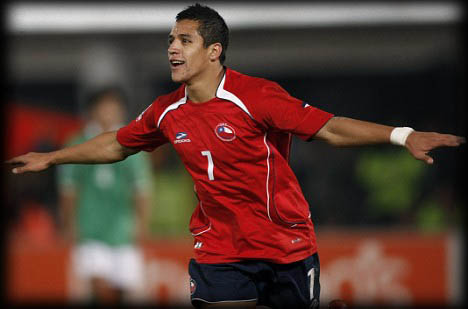 Udinese President, Giampaolo Pozzo, believes that Alexis Sanchéz is similar to Cristiano Ronaldo when the Portuguese was also 22 years old and still playing in Manchester United. Therefore, Pozzo doesn't want to rush things and sent a message to Barcelona and Real Madrid, saying the price tag of Alexis Sanchéz is 50 million euros.
The International player from Chile and Udinese main star, Alexis Sanchéz, is also being disputed by Real Madrid, Barcelona and Manchester City during this summer transfer window. However, Udinese's President seems to be a bit reluctant about giving up his greatest club asset and said that he'll only sell Alexis Sanchéz for 50 million euros, because he's like Cristiano Ronaldo, when CR7 was still 22 years old.
Pozzo: "To be honest, 50 million euros is probably not even enough for a player like Alexis Sanchéz. If someone brings up that ammount of money and takes him, I'll be sad. I want Alexis to stay with us next season, in order to help us in the Champions League. I have no doubts that if he stays another year, he'll be worth more than 50 million euros. He's just like Cristiano Ronaldo was in Manchester United, when he was still 22 years old and, therefore, I have no rush at all in transfering him."
Giampaolo Pozzo: "Alexis Sanchéz is a diamond. He makes the difference. If Barcelona or Real Madrid want him, they'll have to pay a fair price: 50 million euros. It's not an expensive transfer, because if Barcelona buys Alexis Sanchéz, then Real Madrid won't win any title next season. But they are the ones who should decide if they really want to take this step forward. Manchester City also made an offer for Alexis Sanchéz and I can say it was better than the one made by Barcelona. If Fàbregas is worth 40 million euros, Neymar and Kun Aguero 45 million euros, then Alexis Sanchéz is worth a lot more."
Sources: ronaldo7.net/record.pt

comments powered by