21.06.2011 » Cristiano Ronaldo: "We'll be better than Barcelona next season"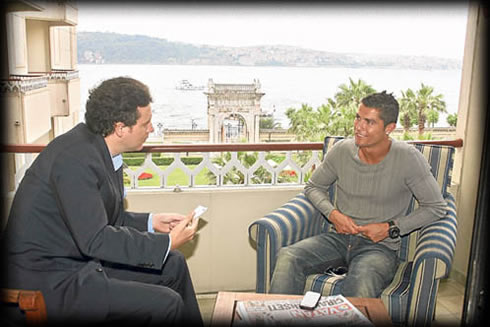 While still on Turkey, Cristiano Ronaldo took the opportunity to grant a new interview to a Turkish media called "Vatan". The competition among journalists to get this exclusive interview was fierce and Ronaldo talked about his expectations for next season and how confident he is on Real Madrid being much stronger and able to beat Barcelona.
Thousands of Turkish fans received Cristiano Ronaldo in Instanbul in the last weekend and even though CR7 is used to get very warm receptions, he confessed he got a bit overwhelmed with what he witnessed in Turkey. Cristiano Ronaldo: "It was incredible, I had never seen such thing in my life. I can say now that I got speechless at the time".
Cristiano Ronaldo started by being asked about what he knows about Turkish football and the Turkish League. CR7: "I must confess that I usually don't follow much what happens in Turkish footbal. I know a bit about Besiktas, mostly because I have some friends in that club. Ricardo Quaresma, Hugo Almeida, Simão Sabrosa, or Manuel Fernandes are good friends of mine. They all tell me that Besiktas has really good and passionated fans. I also have a good friendship with Yildirim Demirören, Besiktas president, who is a really good and honest person."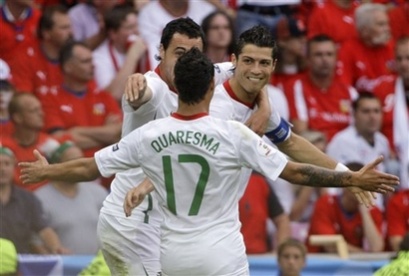 Next season, Real Madrid will have three Turkish speaking players in the squad: Mesut Ozil (German), Nuri Sahin and Hamit Altintop. Cristiano Ronaldo they will help the team being more succesful: "Ozil had a great start with Real Madrid already. He adapted really well and he also came from German football. That's another reason to be confident about both Nuri Sahin and Altintop adaptation into Spanish football. I'm sure that language differences will be no obstacle for them to fit in, because here, at Real Madrid, we're all united towards winning and we're all excited with the team we're building to face the challenges coming ahead."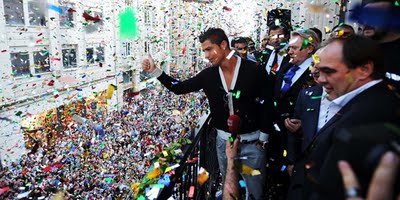 Talking about challenges made the expectable question popping out. What about Barcelona. Does Real Madrid have what it takes? Do the "Merengues" have enough weapons to beat their biggest rivals? Cristiano Ronaldo: "If we want to win the Spanish League (La Liga) we have to believe we can defeat Barcelona. They are good, I have no doubts on that, but I believe we are building a better team. I'm also confident next season we'll be stronger than Barcelona and we'll be able to beat them."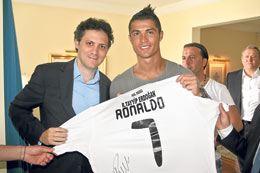 Then the journalist asked about Lionel Messi, and if he represents an additional motivation factor to keep improving. Cristiano Ronaldo: "I honestly don't care about what other players do or achieve. We have completely different styles and personalities. We should only worry about what happens at home (Real Madrid) and focus in our team. That's what I do at least."
Cristiano Ronaldo also approached a topic that newspapers and magazines love to gossip about. Nightlife and parties. However, CR7 assumes he has no bad habits and said he goes to bed early in the night every since he started competing at high level and he sleeps very well. Nights out only happen in Cristiano Ronaldo life when he's on vacations and he's the first to admit that, just to avoid misunderstandings from the media.
There was still time to ask Ronaldo if he would consider moving to Turkey and Besiktas in future. Cristiano Ronaldo: "No one knows the future, so we should never say never in life. This is a golden rule for everyone and I might consider an offer in a few years.
Cristiano Ronaldo still had time to admit he's very happy with the relationship with his girlfriend, Irina Shayk. CR7 said that a happy player always performs better and he doesn't think there's a big difference in being married or just dating. Before ending the interview, Cristiano Ronaldo had a statement that will probably brake many hearts all around the World, after confessing: "I'm very in love with Irina Shayk!" Will we be hearing wedding bells any time soon for Ronaldo and Irina?
Sources: ronaldo7.net/kanalturk.com.tr

comments powered by