14.06.2011 » Cristiano Ronaldo: "I want to end my career in Real Madrid"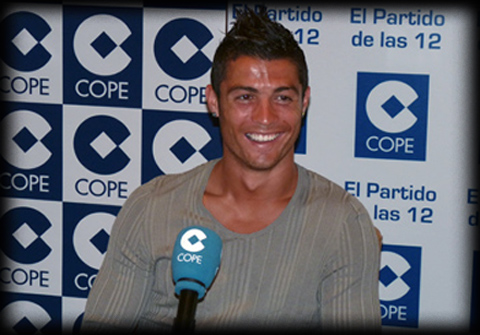 Cristiano Ronaldo is on vacations in Portugal, but he took the chance to grant an interview to the "El Partido de las 12", a radio show from Cadena COPE. Cristiano Ronaldo said that if it only depended on him, he would sign a contract extension with Real Madrid for 10 more years, because that's the club where CR7 wants to end his career.
Cristiano Ronaldo showed up this week to grant an interview to Cadena COPE and similarly to what happens on the field, CR7 didn't hide himself and talked about everything he was asked about. Ronaldo talked about the past, present and the future and gave all his fans a big reason to be happy, by saying he wants to keep playing at Real Madrid until the end of his career. With these statements, Cristiano Ronaldo responds the recent transfer rumors about Manchester City being interested in making a move for CR7 with a 180 million euros transfer offer. "For me, what matters the most is how people treat us and not the money itself. I'm feeling great in Madrid, everyone in the club is awesome and so are the fans. I'm delighted here. If it only depended on me, I would sign for another 10 years with the club. This is where I want to finish my career."
There's a question CR7 will always have to deal with and that's the one related with the rivalry between him and Lionel Messi. However, Cristiano Ronaldo has a different idea: "I'm not competing with Messi, I compete with myself and with all the teams playing in the Spanish League." Ronaldo said he doesn't like the comparisons being made with Lionel Messi and explained why: "Messi is a very good player, who I like a lot, but I'll say it again, I'm not competing with him. I'm not worried with Barcelona and I don't care if they they sign with Maradona or Cruyff, with all the respect."
No time to read the rest? Check the highlights from Cristiano Ronaldo interview to Cadena COPE:
Cristiano Ronaldo also admitted: "Barcelona was a fair champion of the Spanish League and the Champions League. They played better and they didn't win their games just by chance or luck. They won because they were better. But I'm convicted that there's no team that can't be beaten. Barcelona has a great team, a great coach like Pep Guardiola, but we'll get there... We already showed in the Copa del Rey this season and in the other matches against them, that we're getting closer. We want to beat them and hard things have a different taste and are more pleasant."
Real Madrid's number 7 also spoke about his new 41 (40) goal record set in La Liga and a total of 54 (53) goals scored in all competitons, but Cristiano Ronaldo would have traded it without blinking for a special prize: "I would prefer to have scored half of those goals and have won the Spanish League or the UEFA Champions League. But it's also true that this has been a great season at an individual level and probably my best season so far. I'm not obsessed with "La Décima" (the 10th Real Madrid Champions League trophy), but I get really excited with the possibility of winning it. When there are many good players and such a good coach, sooner or later that trophy will arrive." Cristiano Ronaldo didn't want to set targets for the upcoming years in terms of goals, but he accepted the challenge to rank his season individually and as a team. Both deserved an 8 or 9 out of 10 in CR7's opinion.
Cristiano Ronaldo still had left a few compliments for his coach, José Mourinho. "He's the number one. He knows what he has to do for the team to win and I'm sure things will go even better on his second season in Madrid, just like it happened with me. Mourinho knows better than anyone else that we have to improve on every side of our game and only those who work with him daily, really know how he is. Mourinho is simply the best. He demonstrated it on every league where he has passed. If you are good here, then you have to be good in Spain, Italy and any other country in the World."
One of the hottest topics of the summer are the transfer rumors and Cristiano Ronaldo commented about some of the names that have been coming out on the press almost on a daily basis, such as Kun Aguero, Neymar or Fábio Coentrão. Cristiano Ronaldo: "In my opinion, Aguero and Neymar are two really great players and Fábio Coentrão is probably the best Portuguese player still playing in Portugal. Coentrão would be a great signing, because he's a good boy, very ambitious, he runs a lot and he's very talented." About the already confirmed Real Madrid signings for 2011-2012, Ronaldo said: "We'll have to help and support Nuri Sahin, Altintop and Callejón when they arrive at the club." CR7 didn't finish his intervention about the transfer season before admitting that he would love if Adebayor keeps in Real Madrid. "If I could decide I would definately keep Adebayor. He's very good as a football player, but he's even better as a teammate. He helps a lot lifting the mood in the locker room. He's a bit like Marcelo, transmitting joy and positive energy."
To finish the interview, Cristiano Ronaldo quickly left a note comparing the English Premier League and the Spanish League, after have praised both of them: "I get much more insulted in Spain than what I was in England. I don't understand it. These are the sort of things we can't keep accepting, but we have to deal with it and keep going."
Cristiano Ronaldo keeps on vacations in Algarve, Portugal. We'll release some new photos from his last days later this week.
Sources: ronaldo7.net/cope.es

comments powered by