13.06.2011 » Kaká: "Cristiano Ronaldo is better than Messi"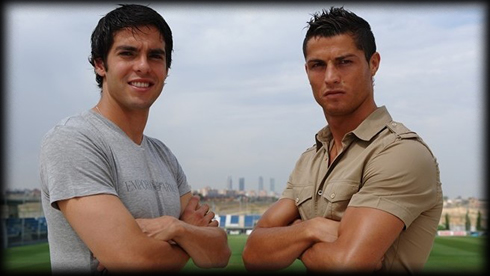 In a recent interview to ESPN Brasil show "Bola da Vez", Kaká affirmed that Cristiano Ronaldo is better than Lionel Messi. For the Brazilian superstar, Cristiano Ronaldo is surely a more complete player, but he also reckonizes Messi is phenomenal.
Kaká is the first to admit that he didn't have a great season this year, but the Brazilian player is confident next season will be different. Kaká said that Barcelona is currently the strongest team in the world, but he also pointed a few things he didn't like to watch in the "Clasicos" between Real Madrid and Barça.
Kaká: "I think we did well against Barcelona this year. It's not easy to play against them, because they are a team who keeps the ball possession almost during the entire game, just passing it around. The way we managed to play against them, by pressuring their midfield, really created them some difficulties that no one else was able to accomplish this season."
Even though Kaká reckonized the immense value this Barcelona team has, he also added some negative points to Barça: "Whenever there's a foul during the game, the entire Barcelona team runs towards the referee. That sort of things is done to pressure the referee's decisions. I wonder what would happen if we started doing it as well? Just imagine how it would look like..."
Kaká also kept some kind words for his manager: "José Mourinho has a total different speech inside the locker room when compared to the one he has to media and newspapers. He helps us a lot by calling our attention to small details we have to be careful at in certain games and always defend us against the press comments, referees or anything else that comes in the way."
Kaká: "Mourinho is really different. He can motivate an entire team towards the same objective. Everyone was talking about the fact that Real Madrid couldn't get through the last 16 round in the Champions League and we made it to the semi-finals. The same thing about the Copa del Rey, which was a trophy that Real Madrid didn't win since the 90's and we won it this season. José Mourinho is a coach that really cares about details. What the common football fan sees as a colective analysis, he'll focus at the indivual level. He often takes a photo from some tactic display that the team had during a certain game and he talks individually about each player, to correct things."
Kaká: "I must also say that Mourinho helped me a lot during the period I've been injured. He told me that his office door would always be open. And I went there a few times this year, to talk about what I felt regarding my physical condition. I told him I didn't feel ready yet in order to help the team the way I know I can do. I told him I wanted to train more and harder so I could to get my old shape back, and I planned doing more specific speed exercises and other sort of drills."
The Brazilian player didn't forget to talk about the rivalry going on between Lionel Messi and Cristiano Ronaldo. If Kaká had to choose between both, he would pick his teammate. Kaká: "It's hard to pick one. But I would stick with Cristiano Ronaldo because he's more complete. Messi is a genius, but I definately prefer Cristiano Ronaldo because he's a more versatile player. Messi can't score goals with his head, he only does it from time to time, for example."
Cristiano Ronaldo is now on vacations in Algarve, Portugal. We'll release some new photos from his last days later this week.
Sources: ronaldo7.net/espn.com.br

comments powered by