12.06.2011 » Cristiano Ronaldo best goals in the 2010-2011 season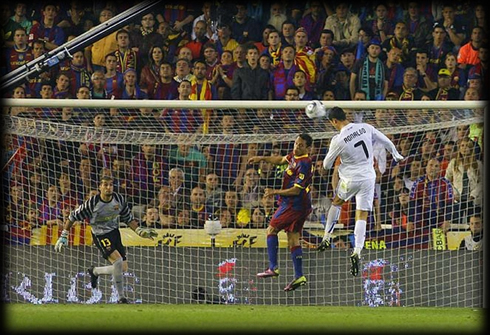 Cristiano Ronaldo legendary season finished with 54 goals scored in all competitions for Real Madrid. It's now time for the fans to vote and decide which one was the best goal Cristiano Ronaldo scored during the 2010-2011 season.
Following realmadrid.com and Marca.com initiative to start a voting poll for the best Cristiano Ronaldo goal this season, we decided it was important to also gather the opinion from our fans regarding this matter. Below, you can watch Cristiano Ronaldo top 5 goals of the 2010-2011 season and vote for the ones you like the most (you need to have a facebook account to cast your vote).
Number 1: Real Madrid vs Barcelona - Copa del Rey Final - 20-04-2011
Number 2: Real Madrid vs Almeria - La Liga BBVA - 21-05-2011
Number 3: Villarreal vs Real Madrid - La Liga BBVA - 15-05-2011
Number 4: Athletic Bilbao vs Real Madrid - La Liga BBVA - 09-04-2011
Number 5: Real Zaragoza vs Real Madrid - La Liga BBVA - 12-12-2010
Which ones did you like the most? Let us know if there's any other Cristiano Ronaldo goal scored this season, that if you think it deserved to be ranked in this top 5 selection.
Sources: ronaldo7.net

comments powered by