10.06.2011 » Thiago Silva: "Ronaldo is one of the most difficult players to defend"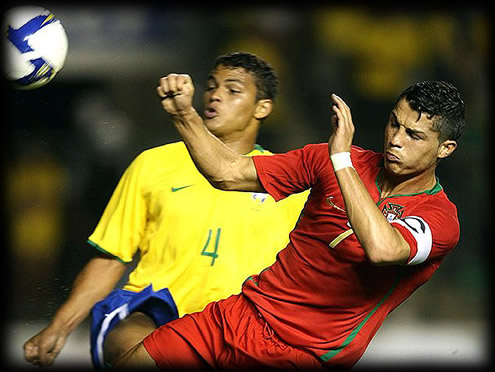 AC Milan's Brazilian defender, Thiago Silva, said recently that Cristiano Ronaldo was one of the most difficult players he had to play against. Rafael da Silva and Fábio da Silva, Manchester United twin defenders and Ronaldo former teammates, also reckonized that CR7 has a special talent.
Thiago Silva is seen by many as one of the most promising defenders in the World at the moment. Even though the Brazilian is still not very experienced, he assumed that Cristiano Ronaldo was definately one of the hardest tasks he had as a defender so far.
Thiago Silva: "Cristiano Ronaldo is a great player and he already proved that several times. He was one of the hardest players I had to defend in my career." The Brazilian defender has been the target of plenty of rumors, which point him as a potential signing of Real Madrid's biggest rival, Barcelona. However, Thiago Silva had no problems in admitting how good Cristiano Ronaldo is.
Besides Thiago Silva, there were also two other Brazilian players who recently praised Cristiano Ronaldo. Rafael and Fábio da Silva, both Manchester United defenders and former Ronaldo teammates, defended the idea that CR7 is truly special and commented a few aspects about the Portuguese player to "Globo" media press.
Fábio da Silva: "Cristiano Ronaldo dribbles, but he does it with objectivity. The proof of that is the the ammount of goals he scored this season. Some of his opponents end up by losing their patience, but that's part of the game. They have to understand that's his virtue."
Fábio's twin brother, Rafael da Silva added: "Cristiano Ronaldo is a very quiet and friendly person. Specially in the game days, since he used to be very focused on them." Another former Manchester United player, Kléberson, was also quoted on this text interview when commenting about CR7. The Brazilian player was presented in Old Trafford in the same day as Cristiano Ronaldo and has no doubts affirming: "We could tell he was going to be special, because he already had amazing technique skills and arrived at a very important club. Moreover, he found Sir Alex Ferguson and very experienced players. It was almost like polishing a diamond. He was already a promise in 2003, but he started learning and developping a lot since he started his path in Manchester United."
Cristiano Ronaldo is now on vacations and we'll keep bringing the fans everything about CR7. Real Madrid is expected to start the pre-season in July.
Sources: ronaldo7.net/maisfutebol.iol.pt/globoesporte.com

comments powered by