03.06.2011 » Portugal 1-0 Norway. A night for Hélder Postiga to remember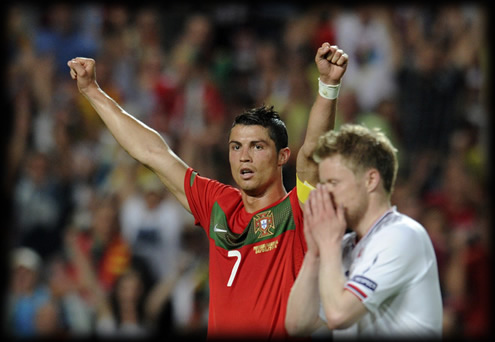 Portugal defeated Norway by 1-0, in a game where Cristiano Ronaldo, Portugal's captain, showed a bit of fatigue after an intense season. Hélder Postiga became the Portuguese hero in this match, after scoring the winning goal, from a good cross made by Nani.
With Cristiano Ronaldo wearing Portugal's captain armband and around 8 months and 3 wins later, the Portuguese coach, Paulo Bento, finally seems to have sorted out the problem left behind by Carlos Queirós. Portugal's winning streak allows the "Lusitanos" to be on the top of the Group H, for the Euro 2012 Qualifiers, after having beaten Denmark (3-1) and Iceland (3-1). Portugal is now in 1st place, tied with Norway and Denmark, but the Portuguese have a far better goal average. Cristiano Ronaldo made his last game of the season, but couldn't score any goal despite several attempts.
Playing in a great atmosphere in "Estádio da Luz" (Stadium of Light), Benfica's stadium, Portugal controlled the game with Raúl Meireles (Liverpool), Carlos Martins (Benfica) and João Moutinho (F.C. Porto) dictating the tempo of the game. With Nani and Cristiano Ronaldo wide open, Portugal attempted to create dangerous plays from the wings, but for some reason, the last touch was never successful. Credits to João Moutinho, who was by far the most assertive player in this match, displaying great technique skills and passing the ball like a true "maestro".
Portugal insisted on playing more through the left side, taking advantage of a potential future Real Madrid partnership, with Fábio Coentrão and Cristiano Ronaldo. However, Norway was defending very well and cutting all the free spaces. CR7 had a good opportunity close to the end of the 1st half from a set pieces, but the Jarstein deflected it to corner.
Portugal was clearly on top of Norway and the draw didn't interest to Portugal at all. Probably because of that, Portugal started the 2nd half pushing even more forward and with only a few minutes played, Nani put up a good cross to the heart of the area and Hélder Postiga made a great goal in a striker classic move. Cristiano Ronaldo kept on trying to score another goal, but this wasn't his night and all his efforts were unsuccessful. Portugal held the 3 points until the end of the match and their next fixture will be in the 2nd of September, against Cyprus.
Cristiano Ronaldo is now on vacations and should start the pre-season with Real Madrid in July.
Sources: ronaldo7.net/tvi24.iol.pt

comments powered by