14.11.2010 »» Real Madrid wins the 6th league game in a row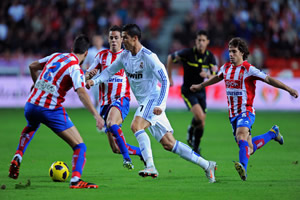 The insulting remarks regarding Jose Mourinho made by Sporting coach Preciado created a hostile environment at El Molinon Stadium, but his tactic backfired. Real Madrid had multiple chances on the locals' goal and Higuain eventually converted one of them, giving the Whites their sixth straight victory in La Liga, which keeps them as leaders on the table.
Sporting were overexcited and hyper-motivated, playing just within the limits of the rules. Real Madrid tried to score an early goal in order to cool the atmosphere down a bit. Higuain had a chance on the 9-minute mark but hit the post. Hardly anything of note happened in the remaining of the first half; constant bickering and protests by Sporting players took centre stage. Di Maria had a great shot on target that was saved by keeper Juan Pablo (49'). Higuain scored five minutes later and seemed to be onside, but referee Turienzo Alvarez decided otherwise and disallowed the strike.

Mourinho decided to use a 4-4-2 system in the 65th minute and brought Benzema on for Di Maria. Higuain had a chance from a one-on-one three minutes later, but the goalie saved the day again. Sporting grew dangerous with their counterattacks and Sangoy came close to defeating Casillas. Real Madrid still dominated the match and had many chances to score, with the local keeper once again clearing a shot by Benzema (75').

The French striker nearly scored when he headed a phenomenal cross by Ramos. The goalkeeper saved the day again, but only briefly, as the ball fell at Higuain's feet on the goal-line (84'). Sporting reacted through Barral very quickly, but Casillas prodigiously defeated the striker. Mourinho then decided to replace Higuain and Ozil for Lass and Arbeloa to strengthen the defence in the final minutes of the match. Botia was sent off just before the sound of the whistle for his harsh tackle on Ronaldo as he raced towards Sporting's goal.
Source: realmadrid.com