23.05.2011 » Cristiano Ronaldo: "This Pichichi is for my fans and my teammates"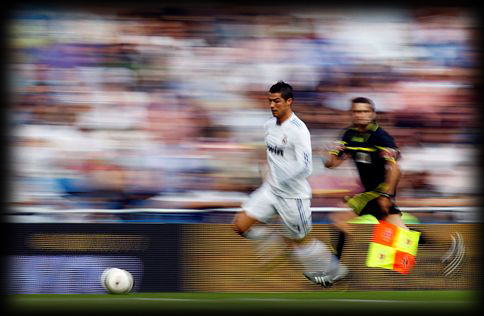 Cristiano Ronaldo is perfectly aware of his goal record magnitude and wonders if there's anyone capable of breaking his 41 (40) goals record in "La Liga", in a near future. CR7 dedicated this Pichichi trophy to all his fans and teammates.
The club season is over and Cristiano Ronaldo numbers are simply out of this world. CR7 broke several records, including the all-time goalscorer in La Liga, beating Hugo Sanchez and Telmo Zarra's 38 goal record. But besides the 41 (40) goals in the Spanish League, Ronaldo scored 7 in the Copa del Rey campaign, including the winning goal in the final against Barcelona, but also 6 goals in this UEFA Champions League edition. Summing it up, Cristiano Ronaldo totals goals this season leave no one indifferent, since the 54 (53) goals mark is a tally not that easy to be repeated.
Cristiano Ronaldo: "We scored 102 goals in a single season and that's hard to accomplish. I have to congratulate my teammates. This is a team game afterall. I want to dedicate this Pichichi to my teammates and my fans." said CR7 to the TV station network "Canal+", after having scored another 2 goals against Almeria.
CR7: "All records exist so they can be broken someday. Let's see who beats my 41 (40) goal record now." Ronaldo also quickly reviewed this season and added: "This season didn't go as we expected, but José Mourinho wanted and asked us to score many goals in these last matches, so that we could start next year with a lot of ambition. I'm confident we will be champions next season."
But the journalists kept on asking Ronaldo to comment on his 41 (40) goal record and the Portuguese player, once again, said this wasn't only his merit: "This goal record and this Pichichi represents everyone's work, starting on my teammates, to my coaching staff, as well as all the club employees and fans." Before ending the interview, Cristiano Ronaldo noted: "I would have preferred to have won all the titles instead of the Pichichi, but I'm sure we'll win more next season."
Cristiano Ronaldo is now on a small vacations trip with his girlfriend Irina Shayk, in Madeira, Portugal. In a few days, CR7 will join the Portuguese National Team to prepare for the next qualifying game for the Euro 2012 tournament.
Sources: ronaldo7.net/record.pt

comments powered by