20.05.2011 » CR7: "I will always give everything while wearing Real Madrid shirt"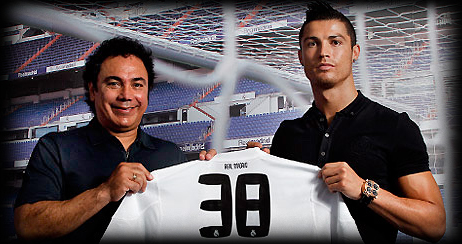 The question insists remaining. Does Cristiano Ronaldo have 38 or 39 goals? La Liga's official report still state 38 goals but Marca.com (the ones responsibles for awarding the Pichichi trophy) claim Cristiano Ronaldo has 39 goals. Real Madrid will play against Almeria tomorrow and CR7 can help ending this controvery discussion, as well as the 38 "ghost" goal record, if he scores again.
Hugo Sanchez, one of Real Madrid's legend and Cristiano Ronaldo, just met recently for a quick talk about CR7's recent achievement. The past and present of football come together through the greatest thing they have in common, the ammount of goals scored in Real Madrid. Hugo Sanchez played 7 years for Real Madrid, winning 4 Pichihi Trophies and one Golden Boot award, as well as equalising Telmo Zarra's record of 38 goals in one season in La Liga. Cristiano Ronaldo, who already scored 85 goals as a Real Madrid player, has nothing but respect for the former player and feels proud for reaching and breaking his record.
Hugo Sanchez: "I always said that, if my goal record was ever to be equalled or broken, I'd rather want that to happen by a Real Madrid player. I can only celebrate since Cristiano Ronaldo surpassed it. Records are meant to be broken." Cristiano Ronaldo then replied: "I am honoured to have reached two legends like Hugo Sanchez and Telmo Zarra. I am truly happy to be amongst them. Individual trophies are important, but not as much as team achievements. I'm satisfied because it isn't easy to score 38 or 39 goals in only one season, but I managed to do it, with the help of my teammates. I wouldn't be able to win a Pichichi Trophy or a Golden Boot without them for sure and therefore I am very grateful to them. All I can promise is that I will always do my best when wearing this shirt in Real Madrid. Mesut Ozil, Kaka, Xabi Alonso, Angel Di Maria, Karim Benzema, Gonzalo Higuain... It's hard to choose just one teammate. This award belongs to all and I wish to share it with them."
Hugo Sanchez listened and agreed, but also added: "Michel possible served me the most assists, but I connected well with everyone back then. Emilio Butragueño, Martin Vazquez... I also believe this trophy belongs to the entire team as Ronaldo said." His side established a record by scoring 107 goals in just a single season. This year's Real Madrid haven't reached that number, but they've scored an impressive 94 goals nonetheless. Cristiano Ronaldo: "Let's see if we can score more goals against Almeria, in order to make our goal count even more impressive."
It is said strikers and forwards remember every goal they have scored in their career, and that they're capable of describing all of them, in minucious detail. Hugo Sanchez and Cristiano Ronaldo couldn't agree more. Hugo Sanchez: "My favourite goal in my 38 goal run, was the last one because it was the one that allowed me to catch up with Telmo Zarra and win the Golden Boot that year. It came from a cross by Michel. I dribbled the defender and my shot went on target." Cristiano Ronaldo also goes with his recording breaking goal, the 39th this season: "My favourite is the second strike I scored against Villarreal. I like many of the goals I've already scored, but I prefer that one, simply because it's the most recent."
Hugo Sanchez and CR7 also shared words of praise for each other. Sanchez: "I believe I would have scored even more goals if I had Cristiano Ronaldo's speed and shooting power, as well as his movements while on the run. That's what I would have loved to have some of his skills." In the other hand, Cristiano Ronaldo said: "I would like to score from bicycle kicks, as he did. I would also like to have a similar scoring streak. His was truly impressive."
Hugo Sanchez: "Cristiano Ronaldo is young, strong and has many years left in football, and I hope he spends them at Real Madrid. The team will score many goals, play great games and win many titles with CR7 playing for us. The run he's having in Real Madrid is spectacular. Nine goals in three games! That's an astonishing achievement." Cristiano Ronaldo promised he will always do his best: "I will always give everything when wearing the Real Madrid shirt."
Remember that you can watch Real Madrid vs Almeria livestreams, for the Spanish League, in ronaldo7.net, this Saturday. The game was inittially announced to on Sunday, but it's now a certain it will be played this Saturday. Cristiano Ronaldo will play on this match.
Sources: ronaldo7.net/realmadrid.com

comments powered by