17.05.2011 » Gonzalo Higuain: "Cristiano Ronaldo deserves to win the Golden Shoe"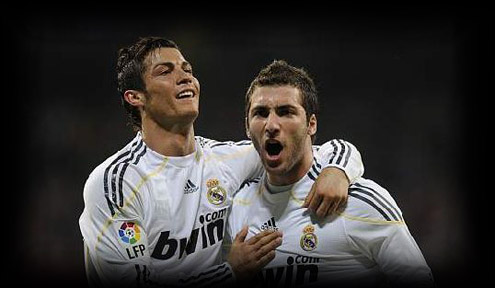 Cristiano Ronaldo team mates are determined in helping CR7 breaking all records this season. It was now time for Gonzalo Higuain to speak up and pay his tribute to Cristiano Ronaldo. Pipita said that the Portuguese player deserves to win the Golden Shoe award, after having scored already 39 goals in the Spanish League and 52 goals in all competitions.
Cristiano Ronaldo statistics in 2010-11
Gonzalo Higuain started the season making a strong partnership with Cristiano Ronaldo upfront in the attack, but a few months ago, the Argentinian player faced a serious injury that made him miss an important stage of the season. Benzema's form rising and Adebayor transfer, turned the competition for a place in the starting eleven a lot stronger. However, Higuain shows a lot of confidence that next season will be better, after having failed to win La Liga and the UEFA Champions League this year.
Higuain assumed his joy for Cristiano Ronaldo goals statistics this year and praised his team mate: "We are all very happy for Cristiano Ronaldo, but it's not normal to look at the goalscorer table and notice he has 38 or 39 goals, but still it wasn't enough for Real Madrid to win the Spanish League title, even though we'll probably make more than 90 points this season. Barcelona was truly a very strong rival and opponent. We would be in first place in any other league across the World and with a big lead for those coming behind."
Gonzalo Higuain: "I hope Cristiano Ronaldo wins the Golden Shoe trophy (award), after having broken such an important record in Real Madrid." Higuain also made a quick comment on the recent Nuri Sahin transfer: "We expect him to have a big impact in this team. He was a leader and a very important player in Borussia Dortmund and we're hoping he'll bring quality and experience to Real Madrid."
Remember that you can watch Real Madrid vs Almeria livestreams, for the Spanish League, in ronaldo7.net, next Sunday. Cristiano Ronaldo will play on this match.
Sources: ronaldo7.net/maisfutebol.pt/goal.com

comments powered by