17.05.2011 » Casillas: "Cristiano Ronaldo statistics are impressive"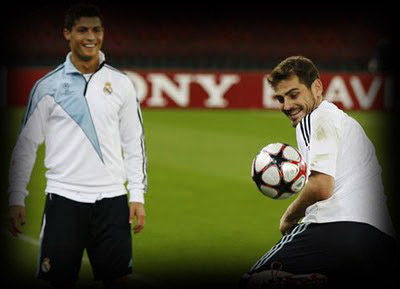 Real Madrid's goalkeeper, Iker Casillas, talked to the press and praised Cristiano Ronaldo statistics in 2010/11. The Merengues captain also talked about UEFA decision of not punishing Busquets for the final, after several evidences showing the Barcelona player calling "mono" (monkey) to Marcelo.
Cristiano Ronaldo statistics in 2010-11

Iker Casillas joined a publicity event this Monday and didn't save his words when it came to admire his Real Madrid team mate, Cristiano Ronaldo. The goalkeeper confessed this has been an incredible season for CR7 and showed his satisfaction in having the team focused on helping the Portuguese player breaking records and winning the Pichichi.
Casillas: "Cristiano Ronaldo is a very decisive and influential player in any team plays. His stats are not easy to achieve and the fact that only 3 players scored at least 38 goals, just proves how good CR7 is.", pointed the Real Madrid goalkeeper, referring to the number of goals Cristiano Ronaldo scored in 2010/11.
The next question was logical as the journalists asked Casillas how important it is for Real Madrid players to help Cristiano Ronaldo winning the Pichichi and breaking records: "We can't win any team titles at this point of the season, but we can help CR7 to win individual prizes and awards. As team mates, that's also an important objective and a goal we all have in Real Madrid. We know Cristiano Ronaldo deserves the Pichichi award, after having scored so many goals and he's definately one of the best players in the World."
Then came a controversial matter, related to the fact that UEFA had recently decided not to punish Sergio Busquets from playing the Champions League Final next week, against Manchester United. The incident responsible for this to happen, was Busquets insulting and calling "mono" (monkey) to Marcelo, as a clear prove of unacceptable racism. However, although UEFA is know for their fight against racism, they decided not to apply any match ban to Sergio Busquets. Casillas commented: "If UEFA decided not to punish Sergio Busquets, then they must know what they saw and what happened. But... everyone saw it, there is no alternative. I hope it's football that comes out as the big winner next week, and that fans behave well and show respect to each other. These two teams (Barcelona and Manchester United) have earned the right to play in the final for one reason or another..."
Remember that you can watch Real Madrid vs Almeria livestreams, for the Spanish League, in ronaldo7.net, next Sunday. Cristiano Ronaldo will play on this match.
Sources: ronaldo7.net/record.pt/goal.com

comments powered by