16.05.2011 » CR7: "I feel honored to reach two legends like Zarra and Sanchez"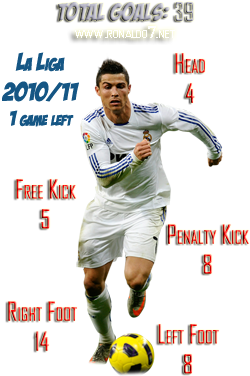 Cristiano Ronaldo made history this season, after scoring a total of 39 goals in the Spanish League, breaking Hugo Sanchez and Telmo Zarra's record of 38 goals in a Spanish League season. CR7 admits he didn't expect to score so many goals but he's honored to reach two legends like Zarra and Hugo Sanchez.

Cristiano Ronaldo broke one of the most desired record in Spain, after scoring two more goals this last weekend in the match against Villarreal. CR7 now has 39 goals (or 38 goals according to some sources), leaving behind a 60 year record established by Zarra (1950-51) and Hugo Sanchez (1989-90), when both players scored 38 goals in a single season.
Cristiano Ronaldo: "I'm very well. The truth is I didn't expect to score so many goals. It's an honor to achieve such a mark, but the most important thing is to have won against a difficult opponent. José Mourinho told us that we had to win these last games of the season, in order to start the next one with confidence.", said CR7 after having scored two goals from two powerfull freekicks.
Cristiano Ronaldo: "It wasn't easy. I always thought it was possible to score. I tried and like everyone saw, I made it." Is this the best season CR7 ever had? That's the question the journalists were eager to ask and Cristiano Ronaldo assumed: "This could be one of my best seasons, in terms of goals scored. I'm happy with it, but we all wanted to have won the Spanish League and the UEFA Champions League."
In a sort of preview for this weekend's match against Almeria, Cristiano Ronaldo said he'll keep looking to score more goals: "I would like to score even more goals in the game against Almeria, but I'm not obsessed with it. I've tried to score from set pieces (free kicks) many times throughout the year, but I've been a bit unlucky until now. There may be nothing at stake for Real Madrid at this point, but we always work hard to win."
Remember that you can watch Real Madrid vs Almeria livestreams, for the Spanish League, in ronaldo7.net, next Sunday. Cristiano Ronaldo will play on this match.
Sources: ronaldo7.net/realmadrid.com/record.pt

comments powered by