15.05.2011 » Villarreal 1-3 Real Madrid. CR7 breaks the 38th goal record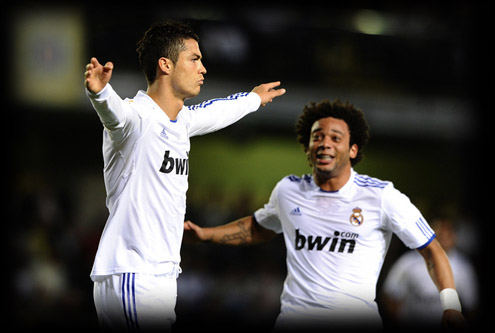 With the title race and the Pichichi award already decided, it's been all about Cristiano Ronaldo breaking the goalscoring record in a Spanish League season. CR7 scored another two goals tonight against Villarreal, from 2 set pieces and showed the world his famous "rockets" also known as "tomahawks". These 2 freekicks goals, allowed Cristiano Ronaldo to break Hugo Sanchez and Zarra's 38 goal record, putting CR7 in the top of the table with 39 goals.
Watch Cristiano Ronaldo photos from the match Villarreal vs Real Madrid
Watch Cristiano Ronaldo 1st goal vs Villarreal (freekick)
Watch Cristiano Ronaldo 2nd goal vs Villarreal (freekick)

Real Madrid visited "El Madrigal" to play against Villarreal with not much in stake, except for Cristiano Ronaldo's possibilities to break the 38 goal record, achieved by Hugo Sanchez (Real Madrid) in 1989-90 and Telmo Zarra (Atheltic Bilbao) in 1950-51. The Merengues won 1-3, with a goal by Marcelo in a fast counter attack and 2 stunning freekicks rockets by Cristiano Ronaldo, allowing the Portuguese to beat the Spanish League 38 goal record by Zarra and Sanchez, having now 39 goals scored in La Liga's 2010-11 season. Once again, we alert for the fact that some sources still claim that Cristiano Ronaldo has 1 goal less, because of the freekick goal scored against Real Sociedad in the beginning of the season, that got deflected in Pepe's back. Those sources still point that Cristiano Ronaldo currently has 38 goals and not 39.
Cristiano Ronaldo passed the Spanish single-season 39 goal scoring record with a brace, in a 1-3 win against Villarreal, having scored his 2nd goal and 52th goal of the season in the last kick of the game. The Portugal forward fired in a free-kick three minutes into stoppage time, to take his tally to 39 for the season, leaving behind the 38 goal record from Athletic Bilbao's striker Telmo Zarra (1950/51) and Real Madrid's own Hugo Sanchez (1989/90).
Cristiano Ronaldo's first goal around the 22nd minute, had made it 2-0 to Real Madrid, after Marcelo's opener in a fast counter-attack and his second this season, restored the two goal advantage. Later on, Villarreal's number 10, Ruben Cani, had reduced the lead to the hosts. The goal record was virtually all that was on the line in this game, as Villarreal's now extinguished hopes of finishing third and catching Valencia were slim at best, while Real Madrid have already lost the title race to Barcelona. But goals were clearly on the mind of the Merengues players, as they pushed forward from the start, in what was a very open game.
Kaká had forced Villarreal's goalkeeper Diego Lopez, to stop a shot around the post in the opening minute and they went on to score twice in the early going. Kaká assisted Marcelo for the first, with the full-back lobbing Lopez to make it 1-0 in a counter attack, just after 17 minutes played. Cristiano Ronaldo then fired home a powerfull free-kick from the edge of the area, after Kaká had been fouled. Real Madrid continued to push forward with CR7 firing narrowly wide around the 30th minute.
Villarreal talented attacking players were not noticed during the first half, but just as the 2nd half started, Iker Casillas comfortably held Marco Ruben's shot. However, they needed only five minutes of the second half to get back in it, with Cani finishing from close range and putting the score in 1-2. Marco Ruben then wasted a good opportunity in a shot over the bar, as Villarreal hoped it could have been a shock equaliser. Real Madrid gradually recovered the ball possession, with Esteban Granero firing over before Pepe headed a cross narrowly over the top, from Xabi Alonso's free-kick into the danger zone. Mesut Ozil brought another good save out of Diego Lopez, around the 71st minute, and the goalkeeper also had to push Cristiano Ronaldo's lobbed effort out for a corner, as the pressure continued to build and Real Madrid menaced the third goal.
Real Madrid finally got the third and final goal, when Carlos Machena fouled Angel Di Maria and Cristiano Ronaldo found the top left-hand corner with his free-kick, making the 52th goal of the season (51 according to some sources, as explained in the beginning of this article) and the 39th goal of the season (or 38), breaking Hugo Sanchez and Telmo Zarra's 38 goal record in a Spanish League season. Just as a side note, Lionel Messi is now 8 goals behind Cristiano Ronaldo, with 31 goals scored this La Liga season.
Remember that you can watch Real Madrid vs Almeria livestreams, for the Spanish League, in ronaldo7.net, next Sunday. Cristiano Ronaldo will most likely play on this match.
Sources: ronaldo7.net/espn.com

comments powered by