09.05.2011 » Valdano: "Cristiano Ronaldo stats are from another world"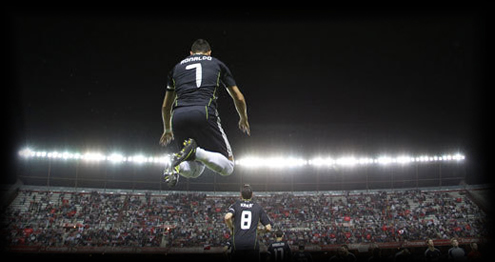 Cristiano Ronaldo needs only one more goal this season to beat the legendary record by Puskas (47 goals in a single season). Real Madrid football director, Jorge Valdano, said he is amazed by Cristiano Ronaldo stats this season.
After scouring another four goals (poker) against Sevilla, Cristiano Ronaldo numbers this season got closer to several legendary records, like Zarra in 1950-51 and Hugo Sanchez in 1989-90, who scored 38 goals in the Spanish League. CR7 already counts with 34 goals in La Liga, still counting with the controversial goal against Real Sociedad early this season. Jorge Valdano is stunned with Cristiano Ronaldo numbers and stats this season and doesn't have any doubt that we are witnessing a true living legend.
Valdano: "Cristiano Ronaldo stats in 2010-2011 are not from this World. He keeps reafirming his World class player status." CR7 will now attempt to beat Zarra and Sanchez records, but he needs to score 5 goals in the last 3 matches, in order for that to happen. Real Madrid remaining fixtures in the Spanish League are against Getafe, Villarreal, and Almeria and chances that Cristiano Ronaldo play those games from the start, are very high.
In the meanwhile, Puskas 47 goals record in a season is already equalized and the most likely is that Cristiano Ronaldo still scores a few more goals in the remaining matches and beats another Real Madrid legendary record. This season, CR7 already left behind Alfredo Di Stéfano and Sanchez records (both with 43 goals), in what concerns the total goals in a single season (all competitions).
Regarding the current season, Cristiano Ronaldo is also ahead of Lionel Messi for the Pichichi award, since the Argentinian has "only" scored 31 goals, against 34 (or 33 according to "La Liga" official website) scored by CR7. With only 3 games left to be played, there's absolutely no room to mistakes for this personal trophy, now that the Spanish title seems to be decided in Barcelona's favor.
Remember that you can watch Real Madrid vs Getafe livestreams, for the Spanish League, online here on ronaldo7.net, this Tuesday. Cristiano Ronaldo will play on this match.
Sources: ronaldo7.net/expresso.pt/publico.pt

comments powered by