08.05.2011 » CR7: "I can only score so many goals because of my team mates"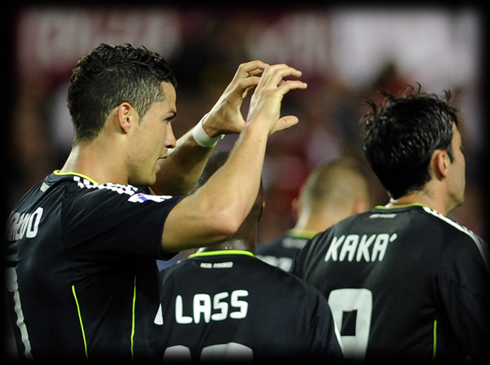 Cristiano Ronaldo was the most shinning star of this Spanish League fixture, after adding 4 more goals to his personal count. CR7 has now scored 47 goals for Real Madrid this season, 34 of those in the Spanish League, allowing the Portuguese star to be ahead of Barcelona's Lionel Messi for the Pichichi award run.
After beating Sevilla by an impressive result (2-6), Cristiano Ronaldo confessed that scoring 4 goals in one match isn't easy but he also reckonizes that his team mates deserve a lot of merit for it. With this achievement, CR7 is now better positioned for taking the Pichichi award (a prize for the best Spanish League scorer of the year, delivered by newspaper "Marca"), since Messi is 3 goals behind, with also 3 games left to be played.
Cristiano Ronaldo: "We wanted to get a good result and we made it. It's always important to score. The later Barcelona become champions, the better." Barça ended up by winning their game today, and are only 1 point away from becoming virtually La Liga champions in 2010-2011. However, CR7 preferred to focus his speech on this great performance Real Madrid had against Sevilla.
CR7: "It was phenomenal. We played well and we scored 6 goals, which isn't that easy to achieve. We're all very happy. Scoring four goals isn't easy as well, but I have to give merit and my thanks to my team mates, because they helped me a lot. All the players are tremendously motivated and José Mourinho transmitted us a positive and winning mentality for us to face next season."
Cristiano Ronaldo also added that he's not worried about the Pichichi award, a trophy that crowns the highest goal scorer in the Spanish "La Liga", every season. CR7: "I don't want to think about individual prizes. There are still 3 games to be played. The important is to think about helping the team so we can win the remaining games in the Spanish League."
Remember that you can watch Real Madrid vs Getafe livestreams, for the Spanish League, online here on ronaldo7.net, this Tuesday. Cristiano Ronaldo will probably play, but news on this matter will be released later on this week.
Sources: ronaldo7.net/ojogo.pt/abola.pt

comments powered by