30.04.2011 » Real Madrid 2-3 Zaragoza. Already thinking in last "Clasico"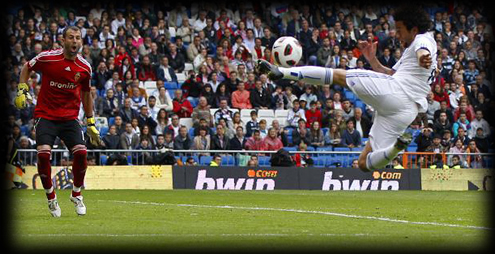 Real Madrid lost the second game in a row in the Santiago Bernabéu, in a match where Cristiano Ronaldo couldn't give his contribution. Zaragoza showed a lot of determination in taking the important 3 points to avoid relegation and Real Madrid showed to lack concentration throughout the game. Real Madrid will try the "remontada" (comeback) in Barcelona, next Tuesday.
Real Madrid vs Zaragoza goals and highlights
Cristiano Ronaldo game photos
The Spanish League final chapters had an interesting journey tonight, after both Real Madrid and Barcelona lost their respective matches. The Merengues lost in the Santiago Bernabéu by 2-3, against Zaragoza, and Barcelona lost against Real Sociedad by 2-1. José Mourinho had announced that Cristiano Ronaldo wouldn't be available for this match due to a technical decision and the team clearly missed CR7's usual influence when attacking Zaragoza's goal. Cristiano Ronaldo was seen in the stadium, together with his girlfriend Irina Shayk and didn't seem to be shy when showing his affection for the Russian beauty (You can see some photos here).
Real Madrid suffered an unexpected upset against Real Zaragoza at the Santiago Bernabeu. The visiting side did its best to earn curcial points to avoid relegation, while the pace to Mourinho's game gruadually increased as the match unfolded and substitutions took place. Real Madrid seemed to be thinking about Tuesday's clash in Barcelona and made decisive mistakes. Another important fact was Cristiano Ronaldo not being available to play in this game, due to technical decision by José Mourinho. History and tradition prevent them from giving up on their options in the UEFA Champions League, for which they will start preparing now.
Captains Iker Casillas and Sergio Ramos presented the recently won Copa del Rey trophy to the Santiago Bernabeu crowd, just before the match kicked-off. José Mourinho used the same lineup as in the team's spectacular victory (3-6) against Valencia last week. In the other hand, Zaragoza based their offensive power on the speed of Lafita and the Nigerian player, Uche. The Merengues lacked concentration in the opening minutes, but they didn't suffer to keep Aguirre's men in check since they barely reached Iker Casillas goal and therefore, were far from creating dangerous chances. Unfortunately, the goalkeeper failed to clear a ball around the 40th minute and Uche controlled it, then a missed shot luckly assisted Lafita for the opening strike.
The second half was very different. Real Madrid pressurised much more in attack, stealing the ball in Zaragoza's half of the pitch and created many more chances when compared to the first half. But Zaragoza managed to score again from a fast counterattack that ended in a penalty awarded to Lafita and converted by Gabi (53th minute). José Mourinho brought Marcelo and Mesut Ozil on, the latter serving a corner kick around the 61th minute, allowed Sergio Ramos to finish it with a header. With half an hour left on the clock, the Santiago Bernabeu started to roar in support of its team.
Controversy ensued when Lanzaro clearly challenged Kaká late inside the box and no penalty was awarded in the 65th minute. Once again, referees made a mistake in detriment of Real Madrid in an effort that could have been decisive. To everyone's greater despair, Benzema's shot three minutes later, hit the crossbar. Real Madrid sieged Zaragoza's goal, but the visitors scored from a fast counterattack started by Uche and finished off once again by Lafita in the 76th minute.
Karim Benzema netted a brilliant crossed shot with six minutes left in the game (84th minute) and the Merengues believed a comeback was still possible, but then Ricardo Carvalho was sent off with a second booking one minute after the goal and the team was down to ten men. Kaká nearly scored an equaliser on the 92th minute, but his header was saved in two steps by Zaragoza goalkeeper, Doblas. There was no time for more and Real Madrid must now concentrate on turning the aggregate score around in the UEFA Champions League, to reach the Wembley final, in what would be an epic "remontada".
Remember that you can watch Barcelona vs Real Madrid livestreams, for the UEFA Champions League, online here on ronaldo7.net, this Tuesday. Cristiano Ronaldo will most likely play, after having missed the last game against Zaragoza.
Sources: ronaldo7.net/realmadrid.com

comments powered by