21.04.2011 » Cristiano Ronaldo: "It's a very important trophy"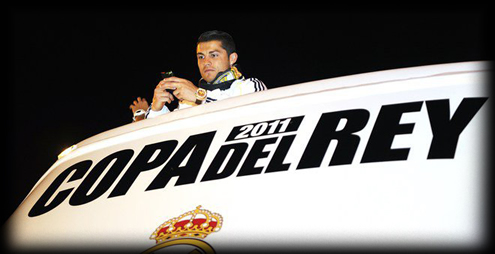 Cristiano Ronaldo helped Real Madrid winning the 18th Copa del Rey in their history with a tremendous header during the extra time. CR7 showed all his joy and reckonized that this title means a lot to the "Madridismo".
Watch Cristiano Ronaldo game photos in Real Madrid vs Barcelona
Cristiano Ronaldo is delighted with his first trophy, since he arrived in Spain. The Portuguese player assumed the this title means a lot for him and for the club, after so many years chasing it. CR7 played a decisive role in the match, finishing a great cross by Angel Di Maria in the first half of the extra time, to put Real Madrid one goal up allowing the club to lift the Copa del Rey trophy.
Cristiano Ronaldo: "This was a very important title for us. It was a target that we had in mind for this season and we did it. More than that, we did it against a Barcelona team that played very well, specially in the second half." CR7 also noted that the key for the success in this Copa del Rey campaign was Real Madrid's coach, José Mourinho. Cristiano Ronaldo: "He passed us the winning spirit. We knew from the start that whoever scores first in a match like this, we'll take the win in the end and that's what happened."
This match between Real Madrid and Barcelona was a true tactical battle in and off the field. In the day prior to the match, the Spanish newspaper "Marca" wrote that Gerard Piqué allegedly had provoked a few Real Madrid players in the Santiago Bernabéu tunnels, by saying: "You are 8 points behind! 8 points behind!"; "Españolitos (Little Spanish), we have already won your Spanish League". "Españolitos, now we are going to win the Cup of your King (Copa del Rey)." These statements being true, would certainly be a good demonstration of the big political fight from Cataluña in order to become independent from Spain. The Spanish player denied the incident just a few hours after, on his Twitter page. However, Iker Casillas, Real Madrid's captain, was asked to comment about this topic after yesterday's Copa del Rey match and responded in an enigmatic way. Casillas: "Piqué knows very well what he said. I didn't hear it, but my teammates did. He's a very good fellow and he'll probably be Spain's captain in the future."
On a side note, Sergio Ramos was also responsible for a funny incident in yesterday's celebrations. The Spanish defender, while on the team bus, dropped the Copa del Rey trophy when he was showing it to the fans in the "Cibeles", already in Madrid. The bus then ran over the trophy damaging it a bit. Sergio Ramos didn't lose his good humor and said today: "The King's cup popped out of my hands when we arrived to the "Cibeles" and saw so many Real Madrid fans!".
Before finishing this story, here you can watch again Cristiano Ronaldo goal against Barcelona, in the Copa del Rey final:
Remember that you can watch Valencia vs Real Madrid livestreams, for the Spanish League, online here on ronaldo7.net, this Saturday. Cristiano Ronaldo should be fit to play.
Sources: ronaldo7.net/marca.com

comments powered by