18.04.2011 » Cristiano Ronaldo: "I want my son to be my successor"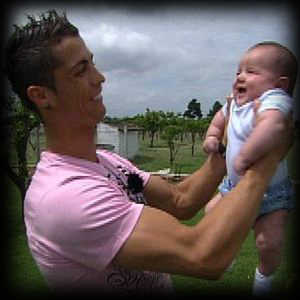 Cristiano Ronaldo granted an interview to Real Madrid TV and revealed one of his dreams. CR7 wants that his 10 months old son, Cristiano Júnior, to be his successor. However, the Portuguese player assures that he won't put any pressure on his kid and he'll let his heir to choose his own path and destiny.
Cristiano Ronaldo spoke to Real Madrid TV and said that he hopes his son, Cristiano Ronaldo Júnior, to be his successor in football. CR7 admits that would be a dream come true, but also noted that he'll give his son enough freedom to choose whatever he wants to do in life.
Cristiano Ronaldo: "My son will be very intelligent, at least he'll be smarter than me. I'll let him do in life, whatever he wants. I would like that he could be my successor, but he'll be whatever God wishes", revealed the Portuguese star.
On a different note, Cristiano Ronaldo also started wearing a brand new pair of football boots in the match played against Barcelona, last Saturday. These new boots made by Nike, that CR7 will keep wearing from now on, are called "CR Mercurial Vapor SuperFly III" and have a sort of a safari theme in its colours. However, the price might be prohibitive for most of Cristiano Ronaldo fans, since they are announced to cost 391 euros. This new football boots model will be available in Nike stores in the 29th of April, all around the world and also in Nike's official site (www.nike.com). Until then, we can only watch these boots on Cristiano Ronaldo's feet and we'll have another opportunity for that this Wednesday, when Real Madrid fights for the Copa del Rey title, in the final against the all mighty Barcelona.
Remember that you can watch Real Madrid vs Barcelona livestreams, for the Copa del Rey final, online here on ronaldo7.net, this Wednesday. Cristiano Ronaldo will play.
Sources: ronaldo7.net/globoesporte.com

comments powered by