15.04.2011 » Cristiano Ronaldo: "Barcelona is not a team from another world"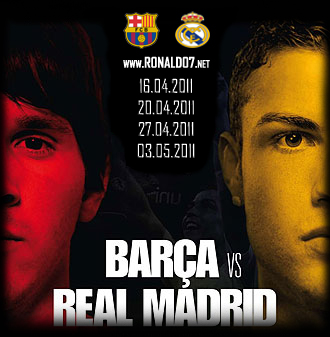 Cristiano Ronaldo is very optimistic that Real Madrid can beat Barcelona in the upcoming "Clasicos". CR7 admits Barcelona is the most strong opponent Real Madrid could face at this point, but also points that Barcelona is not a team from another world.
Cristiano Ronaldo, Real Madrid's key star, talked about Barcelona and made a quick preview to the four "El Clasico" matches that will take place in the next 3 weeks (18 days), starting this Saturday. In CR7's opinion, Barcelona is one of the strongest teams in the World, but he's optimistic that Real Madrid can win the upcoming matches against the "Blaugrana", for the Spanish League (La Liga), Copa del Rey and UEFA Champions League.
Cristiano Ronaldo was also asked to comment on the potential effects the "Manita" (5-0) suffered in the Camp Nou could have in the next games. CR7: "The matches will be completly different. We have to belieive it is possible to win, because they are not from a different world. They play some good football like the best teams ever, but Real Madrid is also doing well lately. We must be confident that the best team will win."
Cristiano Ronaldo never scored a goal against Barcelona, but that fact doesn't make CR7 feel less confident about Real Madrid chances to win against the biggest rival. If Cristiano Ronaldo plays the four matches against Barcelona, he'll be on the field for at least 360 minutes, attempting to finally score and celebrate a goal against the team that is seen by many as CR7's "black beast".
However, there are still some concerns by supporters and fans from all around the World, about potential less strong lineups, from both José Mourinho and Pep Guardiola, for this Saturday's Spanish League match in the Santiago Bernabéu. Real Madrid is still trailing 8 points behind Barcelona and both managers seem to believe that the gap is just too big to be reverted. According to that thesis, there are some chances that Real Madrid and Barcelona will spare their key players to the "Clasico" this weekend, such as Cristiano Ronaldo, but we'll have to wait a few more hours for confirmations on who will play from the start.
Remember that you can watch Real Madrid vs Barcelona livestreams, online here on ronaldo7.net, this Saturday. Cristiano Ronaldo is expected to play, but further news will be released Friday and Saturday.
Sources: ronaldo7.net/marca.com

comments powered by