12.04.2011 » Piqué: "I'm more worried with Cristiano Ronaldo runs than Mourinho"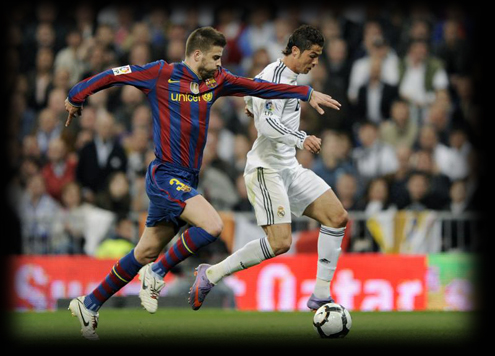 Real Madrid plays against Tottenham tomorrow, in the 2nd leg of the UEFA Champions League, after having won 4-0 last week in Madrid. However, the expectations about the coming matches against Barcelona are already higher than ever.
Gerard Piqué, Barcelona's defender, spoke to the press today and anticipated a bit of what the World is about to see in the next weeks. The possibility of having four "Clasicos" between Real Madrid and Barcelona is only depending on both teams successfully defending their big leads advantages against Tottenham (4-0) and Shakhtar (5-1), respectively. Either way, there will be a "El Clasico" next weekend (Saturday), in a match that can mark a twist ("remontada") in the Spanish League, or can seal the title for Barcelona, once and for all. The entire World is excited to watch a Cristiano Ronaldo vs Lionel Messi battle, that can actually be repeated 4 times in less than 3 weeks (approximately 20 days).
Having that game in mind, Gerard Piqué said today that he's more worried about Cristiano Ronaldo's fast runs than the mind games made by José Mourinho. Piqué: "I'll only be focused on Cristiano Ronaldo running accelerations. He's the one who I have to face on the field and not José Mourinho."
Even though, this UEFA Champions League quarter finals seem pretty much decided, there's an important detail that Mourinho will need to have into account. Cristiano Ronaldo, Di Maria, and Sergio Ramos are in risk of facing a one game suspension if they get shown a yellow card in the match against Tottenham. That would mean Cristiano Ronaldo could actually miss the 1st leg of the Champions League semi-final, if by accident the referee shows a yellow card to CR7 in tomorrow's match. No one doubts José Mourinho is more than wise when dealing with this sort of constraints and the good news are the "Special One" announcement that Cristiano Ronaldo will play against Tottenham from the start.
Remember that you can watch Tottenham vs Real Madrid livestreams, online here on ronaldo7.net, this Wednesday. Cristiano Ronaldo is expected to play, since he has recovered from his injury and Mourinho announced that CR7 will be in the lineup.
Sources: ronaldo7.net/marca.com

comments powered by