06.04.2011 » Berlusconi: "I dream with a Cristiano Ronaldo transfer to AC Milan"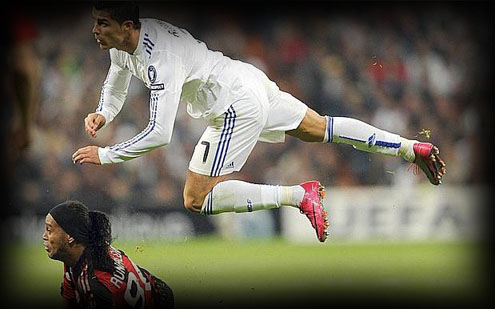 Silvio Berlusconi confessed today his wish for Cristiano Ronaldo to transfer to AC Milan. Being the club's President and the Italian Prime-Minister, Berlusconi is one of the World's most powerful men. His wish of buying Cristiano Ronaldo and see him playing for the "Rossoneri" will most likely keep as being only a dream...
Silvio Berlusconi, AC Milan's president and the Italian Prime-Minister, revealed today that one of his dreams is to see Cristiano Ronaldo playing for AC Milan. Berlusconi, who is involved in a sex scandal with Karima el-Mahroug, also known as Ruby, has recently been accused of child prostitution and abuse of power. The Italian Prime-Minister named Cristiano Ronaldo as witness, in order to testify in courts about the way and the times CR7 met with Ruby. The witness list also includes names as George Clooney and Elisabetta Canalis.
There seems to be a good relationship between CR7 and Silvio Berlusconi, but that shouldn't be enough for this Cristiano Ronaldo dream transfer to Milan to happen, will probably keep as being only a dream. The Portuguese star got transfered to Real Madrid in 2009, for an ammount of 96 million euros. With 26 years old, there are no signs that Cristiano Ronaldo market price is dropping or falling in any way, and having in mind the world financial and economic crisis, it doesn't seem likely that Milan can persuade Florentino Pérez or Cristiano Ronaldo to move to AC Milan.
However, Berlusconi assumed he'll keep trying to get Cristiano Ronaldo moving to AC Milan and confessed he gave orders to attempt the transfer at any cost: "I already told Adriano Galliani to start negotiations for Cristiano Ronaldo".
You may watch Athletic Bilbao vs Real Madrid livestreams, online here on ronaldo7.net, this Saturday. Cristiano Ronaldo is expected to play, but further news should be released during this week, concerning any developments on his injury.
Sources: ronaldo7.net/record.pt/marca.com

comments powered by