06.04.2011 » Cristiano Ronaldo: "We are all very happy with this result"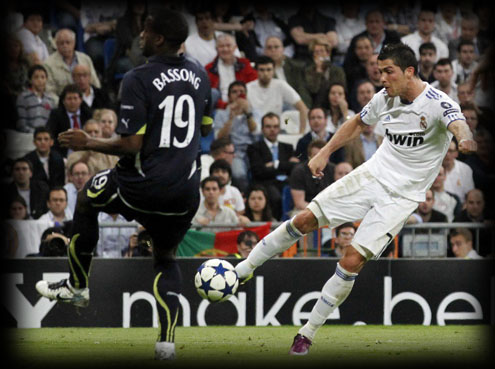 Cristiano Ronaldo first touch volley helped Real Madrid granting a comfortable win against Tottenham (4-0). CR7 said he is very confident for the second leg, but he leaves a warning to never underestimate the Spurs when playing in London.
Cristiano Ronaldo scored his 39th goal of the season in last night's match against Tottenham, in the UEFA Champions League quarter finals 1st leg. CR7 was very happy with the 4-0 comfortable win and in the end of the match he talked about the game incidents and the expectations for the 2nd leg in London.
Cristiano Ronaldo: "I'm happy because we played very well. To get such a result like 4-0 in the quarter finals of the UEFA Champions League is really great. However, we have to keep working and make sure this advantage we just gained is enough to get through, because in football everything can happen." said CR7 to the Spanish media TVE.
CR7: "Although we played against ten men for most of the time (Peter Crouch was sent off around the 15th minute, after a sliding tackle on Marcelo), the team performed well. It was hard to create chances during the first half, but we got a lot better in the second half and improved a lot. We then showed our superiority, passing the ball and always looking for more goals. We are all very happy because the result was very good." Cristiano Ronaldo was then asked to comment about the match that oppose Barcelona to Shakhtar this Wednesday. "We're not worried or dependent from others. We are only focused in ourselves."
You can watch Athletic Bilbao vs Real Madrid livestreams, online here on ronaldo7.net, this Saturday. Cristiano Ronaldo is expected to play, but further news should be released during this week, concerning any developments on his injury.
Sources: ronaldo7.net/record.pt/marca.com

comments powered by