02.04.2011 » Real Madrid 0-1 Sportin Gijón. Mourinho loses a 9 year home record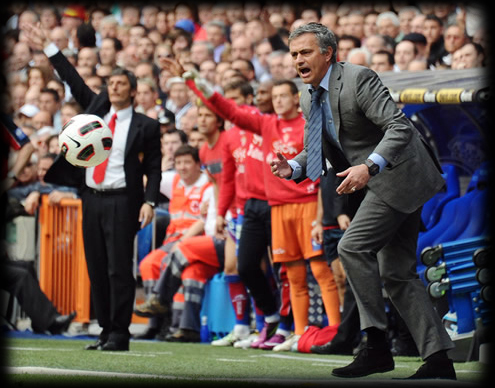 Real Madrid got defeated by Sporting Gijon in the Santiago Bernabéu (0-1) and probably lost all chances to keep fighting for La Liga title. Mourinho lost his personal 9 year (150 matches) record unbeaten in home league games. Cristiano Ronaldo, Benzema, Marcelo and Xabi Alonso were sidelined due to injury or booking, so they didn't play in this game. Gonzalo Higuain made his return, but he couldn't help Real Madrid taking the 3 points.
Watch Real Madrid vs Sporting Gijón goal and highlights
Real Madrid poor performance against Sporting Gijon resulted in a heavy loss by 0-1, which means José Mourinho 9 years (150 matches) unbeaten record for home League fixtures, has ended unexpectedly, as well as Real Madrid hopes for still winning this year's La Liga title. The last José Mourinho defeat at home for a domestic National league competition was from 2002, when "The Special One" was still manager of F.C. Porto and got beaten by Beira Mar.
Cristiano Ronaldo absence surely can't explain everything that happened, but it's also true that things wouldn't look so bad if CR7 would have stepped on the field today. Real Madrid couldn't also count with Benzema and Marcelo (injured during this week when playing for their National teams) and Xabi Alonso who was ruled out for one game, after having seen the maximum limit of yellow cards.
Manolo Preciado side showed consistency througout the entire game, which proved to be enough against a weakened Real Madrid. The shocking goal happened around the 78th minute, when De las Cuevas combined well with Nacho Cases, before beating Iker Casillas with a very precise shot. Real Madrid tried to react, but there were some clear signs of despair and most of the plays were basically long balls to Adebayor, trying to take advantage of his strong presence. The Togolese missed several good chances, as well as Higuain and Khedira, but everyone watching the game was getting that feeling that it was just one of those days where the ball didn't want to get in. That's the first loss José Mourinho suffers in home league matches, since 2002! From what we could see in today's match, let's just hope Cristiano Ronaldo can recover for Tottenham's clash this Tuesday, for the UEFA Champions League quarter finals 1st leg...
Don't forget that you can watch Real Madrid vs Tottenham livestreams, online here on ronaldo7.net, this Tuesday. Cristiano Ronaldo is still doubtful for the game, but there should be news on this matter in the next days.
Sources: ronaldo7.net

comments powered by