30.03.2011 » Cristiano Ronaldo starts training on the field on his injury recovery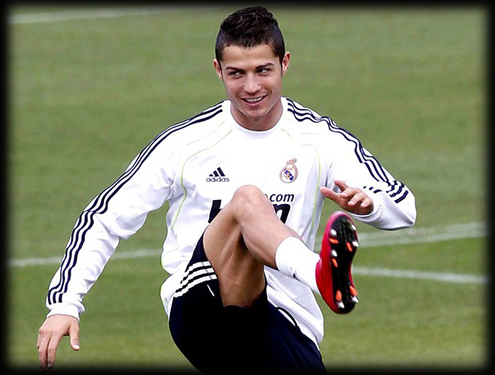 Cristiano Ronaldo injury recovery is going well and from the latest updates gathered, CR7 is still doubtful for the match against Sporting Gijon this Saturday, but he's expected to be fully recovered against Tottenham in the 5th of April. Cristiano Ronaldo is completly focused on his treatments, even on his day offs and weekends, during 6 to 7 hours per day.
Everyone is looking for Cristiano Ronaldo injury news updates and to know when he'll play again. During this week and for the first time since the 19th of March, Cristiano Ronaldo returned to training on the field, but still apart from his team mates. The hamstring injury suffered in the match against Malaga, has prevented CR7 from giving his contribute to both Real Madrid and the Portuguese National Team last matches, but Ronaldo is expected to be fully recovered from it in a matter of days.
Cristiano Ronaldo keeps following his recovery schedule, by doing 2 gym and physiotherapy sessions every day. Even on his day offs and weekends, CR7 doesn't skip the treatments, which is another clear sign on how determined he is to recover the quick as possible. Latest reports gathered, also indicated that Cristiano Ronaldo is spending an average of 6 to 7 hours in the gymnase and the physiotherapy center. Real Madrid's medical staff main goal is to have Cristiano Ronaldo available to play against Tottenham for the UEFA Champions League, in the 5th of April, but there are still hopes that CR7 can play some minutes against Sporting Gjion, this Saturday.
The Spanish newspaper "Marca" said that Real Madrid doctors were studying possibilities to cure Cristiano Ronaldo using stem cells, but that's something that hasn't been confirmed yet. This is a kind of treatment still not very popular and unusual among football players, but medical science developments are providing the means to allow injuries to get treated a lot faster than a few years ago, so let's hope this can help CR7 to return faster to competition.
You may watch Real Madrid vs Sporting Gijon livestreams, online here on ronaldo7.net next Saturday, and there are still doubts on Cristiano Ronaldo presence for this game.
Sources: ronaldo7.net/maisfutebol.iol.pt/marca.com

comments powered by