26.03.2011 » Paulo Bento: "No one wants to see Ronaldo unavailable to play"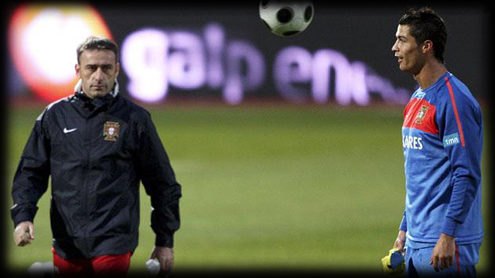 Paulo Bento, the Portuguese National Team coach, says that no one is happy with the fact that Cristiano Ronaldo is unavailable to play, but Portugal needs to find alternatives for CR7. However, the Portuguese coach admits that it's always sad not being able to count with the best player in the World.
Portugal will play against Chile this Saturday and it's a fact that Cristiano Ronaldo won't play, since he was dismissed due to his injury, earlier this week. The Portuguese National Team's coach, Paulo Bento, assumed what seems evident to everyone, by saying that CR7 is truly important to the team, but he's aware of the need of having to find alternatives at this stage of the season.
Paulo Bento: "We have to keep with our game plan, with the players available at the moment, but we're aware that Cristiano Ronaldo absence is something unwanted by any coach. Real Madrid doesn't like this situation and neither do us, since we would always like to be able to count with Cristiano Ronaldo the best player in the world. However, we have to prepare these two matches without CR7 and try to win them without him."
Apart from Cristiano Ronaldo absence, also Miguel Veloso was forced to return to Italy to keep recovering from his injury and therefore won't be able to give his contribute to the Portuguese National Team.
You may watch Portugal vs Chile livestreams, online here on ronaldo7.net this Saturday, even though Cristiano Ronaldo won't play.
Sources: ronaldo7.net/record.pt

comments powered by