24.03.2011 » Cristiano Ronaldo: "My priority is to recover at 100%"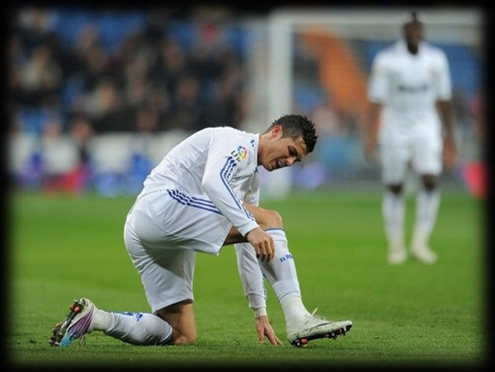 Cristiano Ronaldo confessed his disappointment for being injured and not being able to represent Portugal in the International friendlies matches, to be played in the next days. CR7 says that his priority now is to recover from his injury and be at 100%.
Cristiano Ronaldo travelled to Portugal this Tuesday, where he has been examined by the medical services from the Portuguese National Team, just before he returned to Madrid. CR7 is now expected to keep recovering from his injury in Madrid during the next 2 weeks.
After the injury got aggravated against Atletico Madrid, Real Madrid doctors advised CR7 to not compete for a period not less than 2 weeks, which means Cristiano Ronaldo was immediatly flagged as unavailable for the Portuguese National Team friendly matches agended for the next days, against Chile and Finland. He's still doubtful for the match against Sporting Gijon in the 2nd of March, specially since there's a very important game just 3 days after, in the 5th of March, against Tottenham Hotspurs, for the UEFA Champions League.
Even though his injury was more than confirmed by Real Madrid medical services, protocol demanded that Cristiano Ronaldo got checked and examined by the Portuguese Football Federation official doctors, Henrique Jones and Antonio Gaspar, people who CR7 trusts a lot as well. The Portuguese doctors confirmed Real Madrid reports and allowed Cristiano Ronaldo to return to Madrid and resume his recovery process.
Cristiano Ronaldo also spoke to the press regarding his injury and showed a bit of disapointment for his current condition. Ronaldo: "I've been very limited physically lately. I'm still not very well. I want to recover at 100%. Being injured makes me feel very bad and I don't it to affect me psychologically."
Cristiano Ronaldo showed his concerns on fully recovering from this injury: "I'll be out of competition no matter for how long, because the priority is to not play limited again, like I had to do against Lyon and Atletico Madrid. I would have loved to play these two matches and represent Portugal, but it isn't possible."
Remember that you can watch Portugal vs Chile livestreams, online here on ronaldo7.net this Saturday, even though Cristiano Ronaldo won't be playing.
Sources: ronaldo7.net/marca.com

comments powered by