21.03.2011 » Cristiano Ronaldo injured for the next 2 or 3 weeks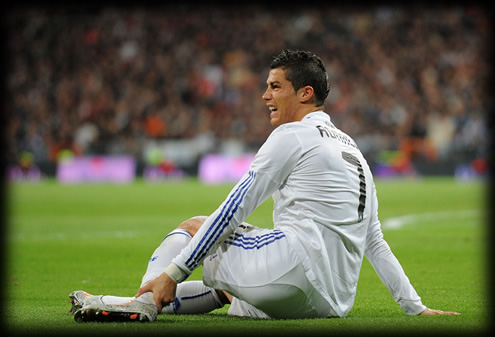 Cristiano Ronaldo is injured and from the last medical reports updates announced, CR7 will be out in the next 2 to 3 weeks. The Portuguese player aggravated his injury in the match against Atletico Madrid and will now miss Portugal's two friendly international matches against Chile and Finland.

Cristiano Ronaldo suffered a new injury in the match against Atletico Madrid, or more precisely, CR7 aggravated the injury he already suffered in the match against Malaga a few weeks ago. Like it was evident to everyone who has watched the last Real Madrid matches, Cristiano Ronaldo was playing with pains and not close to his best physical condition.
Cristiano Ronaldo new injury extent, will prevent him to give his contribute to the Portuguese National Team in the next weekend against Chile, and just a few days after, against Finland. The injury is reported to be an inflammation in the femoral biceps and is expected to keep Cristiano Ronaldo sidelined for the next 2 or 3 weeks. Besides those 2 matches with Portugal, Cristiano Ronaldo is in risk of missing the Spanish League home game against Sporting Gijon in about 2 weeks, and the first leg of the UEFA Champions League against Tottenham, in the Santiago Bernabéu.
However, there are rumours which indicate this new Cristiano Ronaldo injury extent could be a strategic play from Real Madird, to allow CR7 to rest in the Portuguese National Team friendly matches, in order to be at 100% for the decisive moments of the season. Even if that's the case to believe at, the truth is Cristiano Ronaldo is not at his best condition these days and the match against Atletico Madrid proved that CR7 is still suffering from his injury, which made José Mourinho order the substition of the Portuguese superstar, 15 minutes before the match ended.
You can watch Portugal vs Chile this Saturday livestreams, here on ronaldo7.net, even though Cristiano Ronaldo won't be playing.
Sources: ronaldo7.net

comments powered by