20.03.2011 » Cristiano Ronaldo offensive chants and insults. Hate, fear or enview?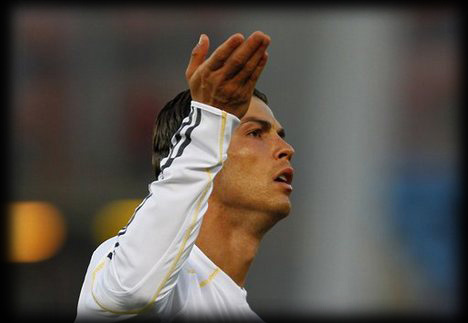 Cristiano Ronaldo keeps getting insulted by the crowds all over Spain. Offensive chants as "Cristiano muérete" (Cristiano die) were once again heard in the match against Atletico Madrid and not even Marcelo escaped the insults, as he was also called "mono" (monkey). How long until someone puts a stop in all these xenophobic and racist attitudes?

Last night match, Atletico Madrid vs Real Madrid, was very rich in terms of incidents. Apart from the football analysis, there's a phenomenon occuring througout several Spanish stadiums and the "Calderon" isn't an exception for that matter. The offensive and xenophobic chants towards Cristiano Ronaldo and also the racist insults targetting Marcelo are just a big black stain in the great atmospheres that crowds undoubtly create to support their teams.
We can't rank this phenomenon as exactly recent, since there have always been chants towards opposite team players all around the World. However, the fans and supporters need to understand that there are lines that shouldn't be crossed and by the way things are evolving, I can only presume they have set no boundaries for their actions. All sort of racist and xenophobic offenses coming from the crowds should be banned and heavily punished by the organisms that are in charge for each national competition. We can look at the UEFA example towards their fight against racism (video) and their strong campaign to "kick out racism", which seems to produce the desired effects and help setting that line which the fans are aware they can't cross. However, since UEFA is only responsible for their own competitions (Champions League and UEFA Cup/Europe League), racist and xenophobic "attacks" keep happening across Europe and more particularly in Spain.
I'll try to self debate on the possible reasons why Cristiano Ronaldo is being victim of so many insults and offenses from the crowds in Spain. Some might say that it's because of his personality and being self-centered or arrogant, like he's often being accused of. Even if that was the case, it doesn't justify half of what witness happening every week. The way Cristiano Ronaldo keeps getting treated in most of the Spanish stadiums is something that I could easily understand generally as being the result of either hate or enview. Or maybe both combined, however, it doesn't exactly explains everything we assist. It may also be a cultural issue, as a result of a xenophobic feeling that some Spanish people aren't even aware they have, towards their "neighbours" from Portugal. Those historical battles for independency or territory control were fought hundreds of years ago, but we all know some of those feelings can sometimes reappear. A valid counter argument could be raised by noting that there are other Portuguese players in Spain that aren't insulted and treated the same way as Cristiano Ronaldo is, but that's probably because they are not as decisive and mediatic as CR7. Do you remember Luis Figo case? One of the Portuguese greatest players of all time, played in Barcelona from 1995 until 2000, but then he got transfered to Real Madrid, in one of the most controversial transfers in football. The hate that transfer generated among Barcelona fans was immense, but once again, it was exponentiated because Figo is Portuguese. That's something undeniable from my point of view, and it can be cross-compared to the way other players were treated when they got transfered from Barcelona to Real Madrid or the opposite way (look at the examples of Luis Enrique or Laudrup). Figo was clearly the most hated player from that shortlist, as you can see in this video from a Barcelona vs Real Madrid match, back in the 2002/2003 season.
Returning to Cristiano Ronaldo, and the way the public keeps insulting and offending him with chants like: "Cristiano muérete" (Cristiano die) or "Ese Portugués, Hijo Puta és" ("That Portuguese, S.O.B. he is"), just proves my point that we're in presence of xenophobic and unadjusted attitudes for the current days. Even Marcelo was mocked and insulted in the last match against Atletico Madrid, when the crowd from the "Calderon" called him "mono" ("monkey") in chants. The same happened to Daniel Alves from Barcelona, who was also victim of similar insults recently.
In my opinion, we're dealing with civility issues and those must be handled with stronger mechanisms to prevent the insults and offenses to keep growing and eventually, someday, leading to physical aggresions. We're not very far from something traggic to happen, so measures must be taken by the Spanish Football Federation or whatever is the organism responsible for the Spanish football competitions. A few weeks ago there were reports that someone tried to stab José Mourinho when arriving to the airport. How long until someone puts a stop in all this hate being generated? Does the Spanish media also play an important role in this aggresive atmosphere created towards Cristiano Ronaldo, José Mourinho and in last instance, Real Madrid?
On a final note, here's a new background made by ronaldo7.net for Cristiano Ronaldo fans (click on the image for optimized version in 1024x768). Cristiano Ronaldo - Legend in the making: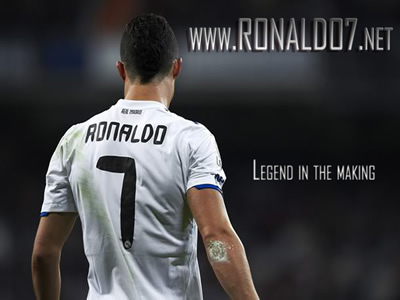 Sources: ronaldo7.net

comments powered by