17.03.2011 » Cristiano Ronaldo: "I was only at 70% against Lyon and I got scared"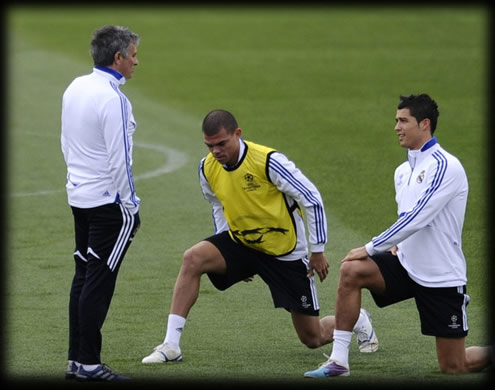 Cristiano Ronaldo made his comeback and return in the match against Lyon, but it was obvious to everyone that CR7 wasn't still completly recovered from the injury suffered in the match against Malaga. Cristiano Ronaldo confessed he only felt to be at 70%, so he was a bit scared.

Cristiano Ronaldo admitted he felt scared after returning to compete against Olympique Lyon, this last Wednesday. CR7 recovered from a muscle injury, right on time to play against the French side, but it was more than evident that the Portuguese player felt a bit limited througout the game.
Cristiano Ronaldo: "I don't know if I risked aggravating the injury. All I know is that I was at my limit and I got scared. I played at 70% and all I wanted was to help the team. We played well and we won, so gladly we went through the UEFA Champions League quarter finals", commented CR7 after Real Madrid win against Lyon by 3-0.
Cristiano Ronaldo believes to be possible that he'll be in better conditions on Saturday, precisely the day Real Madrid plays the derby "Madrileño" against Atletico Madrid. "If I was fit for this last match, then surelly I'll be even better on Saturday. If I don't feel confident about my condition, then I won't play, but the doctors told me I will get better."
There was still time for Cristiano Ronaldo to leave a message to his professional colleague and Barcelona player, Eric Abidal. "I send him all my strenght and support. I'm sure Abidal will overcome this situation properly." Eric Abidal was diagnosed a liver tumour about a week ago and had a surgery scheduled for today. From last reports gathered from fifa.com and Barcelona website, the surgery went without any incidents. A statement on the Barcelona website said: "During the operation, which lasted for approximately three hours, the medical team removed the tumour through laparoscopic surgery without any complications. Depending on his progress, the player could be allowed to leave hospital within a week."
You can watch Atletico Madrid vs Real Madrid livestreams this Saturday, here on ronaldo7.net. Cristiano Ronaldo is very likely to play, but there will still be news on this matter in the next days. Links will be updated around 30 or 60 minutes before the match starts.
Sources: ronaldo7.net/fifa.com/record.pt/fcbarcelona.com

comments powered by