14.03.2011 » Johan Cruyff: "Cristiano Ronaldo is the best player from Real Madrid"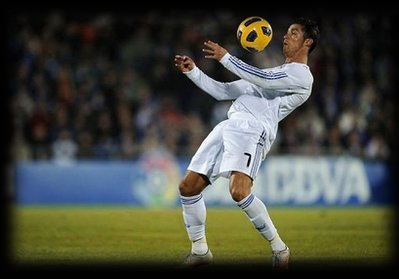 Dutch legend and Barcelona idol, Johan Cruyff, recently defended Cristiano Ronaldo from the critics, by stating that he doesn't think reasonable to even question Cristiano Ronaldo importance in Real Madrid. Cruyff clearly afirms that Cristiano Ronaldo is the best player in Real Madrid.

Johan Cruyff wrote in his weekly review for Spanish newspaper "El Periódico", that he doesn't understand how some people can question Cristiano Ronaldo importance in this Real Madrid team. The Dutch legend, who is a "hardcore" Barcelona fan, says it's unreasonable to even think that Real Madrid can play better without Cristiano Ronaldo.
This has been a recent controversial topic, specially since Cristiano Ronaldo had to miss Real Madrid last two games, due to the injury he was victim of, in the match against Malaga, around 10 days ago. Real Madrid then played two Spanish League games, and won both (1-3 against Racing Santander and more recently 2-0 against Hércules). Some critics raised the debate on how well Real Madrid played without Cristiano Ronaldo and it was just a matter of time until a few voices started questioning if Real Madrid can really play better as a team, when Cristiano Ronaldo doesn't play.
Regarding this topic, Johan Cruyff defends Cristiano Ronaldo: "It's an unreasonable doubt. Everyone wants the best player to play on their team. And I have no doubts that Cristiano Ronaldo is the best player in Real Madrid. He's so crucial, with all his virtues and flaws, that those who play by his side, just focus on passing him the ball (and responsibilities), and forget to give their own contributions to the game.
The biggest Dutch player of all times, also believes that Cristiano Ronaldo absence due to injury, against the likes of Racing Santander and Hércules, allowed other players to raise their presence and quality among the team. "First, some players acknowledged their own quality. Then, Mesut Ozil has an huge talent and he showed it in these last games. Finally, since the best player of the team wasn't around (CR7), others have to give a bit more of themselves to the game."
However, Johan Cruyff didn't reserve only kind words for Cristiano Ronaldo. The Dutch idol also noted a few flaws in CR7's game: "Being at the peak of his form, and being young as he is, Cristiano Ronaldo believes he can do the possible and the impossible. I see him going on "solo runs" against the World (defenders) for many times, but he'll get better and mature on that, over the years. There are a couple of things that Ronaldo has to learn: The first, is that those actions that he wants to do in a matter of 2 or 3 minutes, can't be done so quickly and he has to learn to be more patient, so he can distribute his strenghts throughout the game. Second, being a great player as he is, he'll learn how to select the best position to be on the field. He'll have less participation in the games, but he'll do it more with his teammates", said the former Barcelona coach and current manager of Catalunya.
We remind everyone that you can watch Real Madrid vs Olympique Lyon livestreams this Wednesday, here on ronaldo7.net. Cristiano Ronaldo most awaited comeback will be seen here, as always. Links will be updated around 30 or 60 minutes before the match starts.
Sources: ronaldo7.net/marca.com

comments powered by