10.03.2011 » Cristiano Ronaldo and Real Madrid players nicknames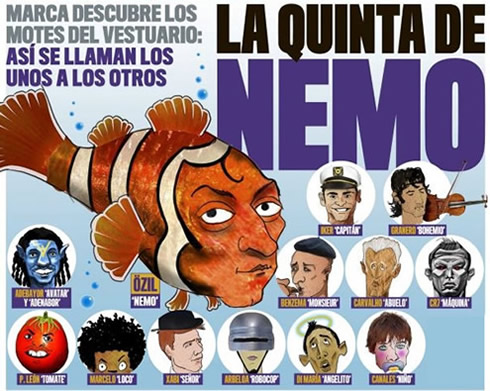 You know what's Cristiano Ronaldo nickname inside the locker room? You can find the answer for that and the nicknames for almost all Real Madrid players inside this article. Find out who's the "Nemo", the "Robocop" and the "Avatar" in Real Madrid.

Here's a story many of you will be interested in reading. Someone from inside Real Madrid team just revealed most of the team players' nicknames, when they are in the locker rooms. One of the funny parts of this story, is that the player who revealed all the nicknames, requested to keep anonymous, but I would bet it wasn't Cristiano Ronaldo...
These revelations were made to the Spanish newspaper "Marca" and let's just start by saying there's a "Nemo" in Real Madrid and we're not talking about the famous fish from the cinema. There are also two Sirs, and none of them is Scotish like Sir Alex Ferguson, since one of them is known as "Señor" and the other as "Monsieur". There's also a "Máquina" ("Machine") and a "Abuelo" ("Grandfather"). You probably already guessed what is Cristiano Ronaldo nickname didn't you?
Let's start with the Portuguese clan. The most loved (and hated) player of world: Cristiano Ronaldo. The Portuguese nickname inside the locker rooms is "Máquina" ("Machine"), just like if he was an engineering piece of art, that spills talent, power and ambition. Pepe is "Pepinho" and Ricardo Carvalho is the "Abuelo" ("Grandfather") of the team, even though he isn't that old (32 years old).
Then comes one of the brightest starts of Real Madrid, Mesut Ozil, who was given the nickname "Nemo", because of his bulging eyes. Another funny thing revealed, was that Ozil teammates often joke with him by saying he has such a great vison when playing, just because of his big eyes. Khedira's nickname is "Sadi", which is precisely his first name (maybe his teammates were afraid to propose a different nickname eheh).
The Argentinian Di Maria is "Angelito", which is related to his first name being "Angel". Garay is the "Negro" ("Black"), because of his skin tone, while Gonzalo Higuain is just "Pipa" nowadays, but used to be "Pipita". Fernando Gago is called by "Fer".
The Spanish captain, Iker Casillas has a couple nicknames. He is known as "Capi" but there are also a few who call him "Culote", which in Spanish has something to do with luck. Sergio Ramos nickname is "Cuqui", which has origins on the famous cookies, while Raul Albiol is known as "Chori" ("Chorizo"), a diminutive for "pudding" in Spanish. Arbeloa is the "Robocop", because he spends too much time in the gym, while Xabi Alonso is called "Señor", which means "Sir" in English and is due to his noble stance everywhere he goes. Esteban Granero is mostly known as the "Pirata" ("Pirate"), but some teammates also call him the "Bohemio" ("Bohemian") because of his retro tastes. To finish the Spanish clan, Pedro Léon is the "Tomate" ("Tomato"), in homage to Murcia, his homeland and Sergio Canales is the "Niño" ("Kid"), since he's the younger player in the squad.
The Brazilian players didn't escape to this nicknames saga, and Real Madrid anonymous source revealed that Marcelo nickname is "El Loco" ("The Crazy"), while Kaká is simply "Ricky", which is also a diminutive for his first name, Ricardo.
That last but not the less funniest, are the two French players and Adebayor. Diarra is known as "Lass", the diminutive for hist first name "Lassana" and Karim Benzema is the "Monsieur", which also means "Sir" in English. Adebayor was the last to arrive to Real Madrid but he already collects nicknames inside the locker room. It's from public domain that Sergio Ramos like to call him "Manolito", but he's also known as the "Avatar" or "Adenabor", and only God knows the reasons eheh.
My guess is that the anonymous source is one of the few players who didn't have the honor to get a nickname. It's just a matter of checking Real Madrid team list and see who's missing from all these names listed. We'll let our readers do that and write their hunches in the comments below, aswell as their suggestions for different nicknames...
Sources: ronaldo7.net/marca.com

comments powered by