06.03.2011 » Racing 1-3 Real Madrid. Good performance even without C. Ronaldo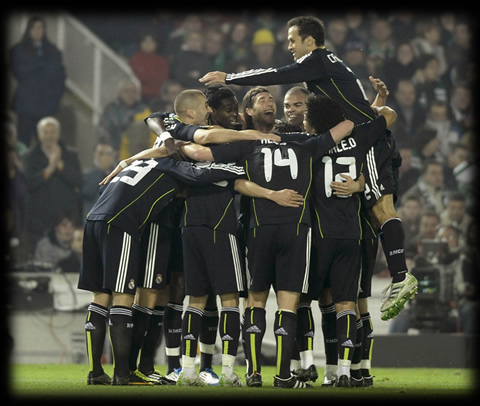 Real Madrid managed to bring home the win, after beating Racing Santander by 1-3, in the "El Sardinero" stadium. Without Cristiano Ronaldo available for this match, the "Merengues" started the match very focused and closed first half already winning by two goals. Karim Benzema (2) and Adebayor scored the goals, but Ozil was the man of the match.
Real Madrid visited "El Sardinero" with a very agressive stand and attitude. The absence of Cristiano Ronaldo probably made José Mourinho order his players to be extra cautious and pressure a lot, immediatly after the first whistle. Racing Santander was outplayed by Real Madrid quick combinations of passes and around the 22th minute, Benzema, Ozil and Adebayor were the actors of a true masterpiece which ended in the first goal of the match, after an easy tap-in by Adebayor. A Real Madrid play that will make some "tiki-taka" fans be jealous of.
With a Racing team almost knocked out, Real Madrid kept pushing and scored the second goal, 4 minutes after. Once again, Mesut Ozil played an important role, by making an amazing pass to Benzema, assisting the French to the second goal of the match. Real Madrid was presenting one of the best performances of this season and it seems like the team managed to deal well enough to overcome tonigh's difficulties, without the Portuguese star Cristiano Ronaldo.
The second half started with Racing trying to react and get back to the fight. With a different attitude, Racing managed to earn a penalty kick around the 51th minute, after a foul suffered by Giovani dos Santos, commited by Xabi Alonso. However, Pinillos should already be aware that the last man defending Real Madrid goal line is a superman called Iker Casillas. The Spanish goalkeeper defended the penalty kick and assured that his net kept untouched for a bit longer. Around the 69th minute, Racing finally achieved their goal, scored by Kennedy. But Real Madrid was decided not to facilitate anymore, and 5 minutes later, Karim Benzema scored again, putting the scoreline in 1-3 for Madrid.
Close to the end, there was still time for Adebayor also miss a penalty kick, something not yet seen this season, since Cristiano Ronaldo is usually who takes this responsability and is yet to miss a single one. Real Madrid will now play against Hercules in the Santiago Bernabéu in the next Saturday, but Cristiano Ronaldo will most likely be unavailable once more. CR7 is expected to return in the match against Lyon, to be played in around 10 days.
Sources: ronaldo7.net/realmadrid.com

comments powered by