05.03.2011 » Cristiano Ronaldo injury should keep him away for 10 days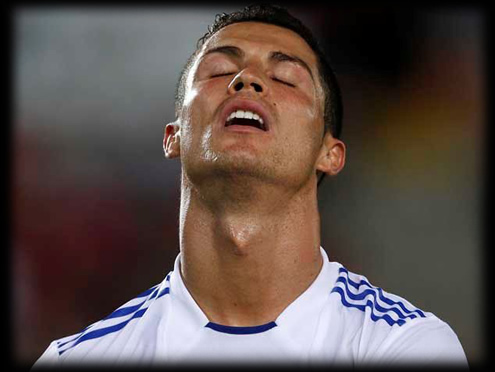 Medical exams confirm that Cristiano Ronaldo injury will make him miss the next 2 games. CR7 got an injury on his left leg and should only return in the UEFA Champions League, for the match against Olympique Lyon, to be played in the 16th of March.

It's almost sure that Cristiano Ronaldo injury will force the Portuguese star to stop for around 10 days. This immediatly means that CR7 will miss the next two Real Madrid matches against Racing Santander (this Sunday) and Hercules (in the 12th of March).
The medical exams were made earlier this morning and revealed that Cristiano Ronaldo got an injury from level 1, in his femoral biceps of his left leg. This unfortunate injury, will force CR7 to rest and his return to competition is estimated to take place when Real Madrid play against Olympique Lyon, in the match counting for the UEFA Champions League second leg, from the last-16 round. This game will be played in the 16th of March, 4 days after the Spanish League game against Hercules.
Without being able to count with Cristiano Ronaldo for almost 2 weeks, there are no doubts that there are a lot of worried fans in Real Madrid realm. The "Merengues" can't afford to drop more points if they still want to keep chasing Barcelona in the top of the league. Now that the season is entering its decisive stage, it's important that all the squad players rise to the challenge and occasion.
Sources: ronaldo7.net/record.pt

comments powered by