01.03.2011 » Ronaldo is "La Liga" field player with the most accumulated minutes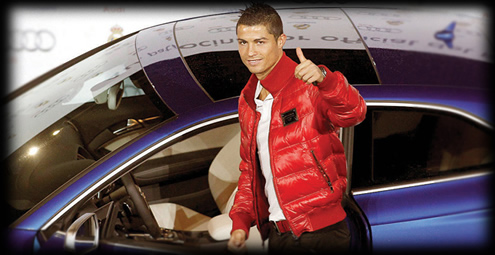 Cristiano Ronaldo is leading the Spanish La Liga field player stats, in what concerns the most minutes played ranking, with 2368 minutes until now. CR7 also took the afternoon to pay a visit to BES offices in Madrid and payed attention to the small drop occured in the Spanish financial markets today.

There's no other field player in the Spanish La Liga, that has played more time than Cristiano Ronaldo along this season, according to official information released by Real Madrid website. CR7 played a total of 25 games in the BBVA's Spanish League, having been on the field for around 2368 minutes. There are only 3 players who beat Ronaldo in this stamina stat, but they are all goalkeepers. (Iraizoz from Athletic Bilbao, De Gea from Atletico Madrid and Diego Alves from Almeria)
Regarding Real Madrid squad and just to have an idea of CR7 indispensability in José Mourinho's choices, the second Real Madrid field player that has played the most this season is Marcelo, with 2071 minutes (297 minutes less than Cristiano Ronaldo!).
On a different note, Cristiano Ronaldo was on the news today, after showing up in "BES" (Banco Espírito Santo), which is a portuguese bank that CR7 sponsors through advertising campaigns. C. Ronaldo already confessed for several times that he has a special interest in everything that has to do with marketing, and even leaves the possibility of focusing more in such kind of business after he ends his career. Today, Ronaldo went to the portuguese bank offices in Madrid, in what is seen as another marketing move and witnessed during this afternoon, how the financial markets developped. For those who may be interested in this particular area, IBEX just closed the day dropping 0,82%. New York's Wall Street also dropped more than 1%.
On a second side note and for those who are more into gossips, there was another women who has been related to Cristiano Ronaldo in the past, calling for attention. Raffaella Fico (who you may watch inside ronaldo7.net "Girlfriends" section), said today, that she lost her virginity with Cristiano Ronaldo. The italian beauty, who is now 23 years old, was recently related to the sexual scandal envolving Silvio Berlusconi, but doesn't seem like that was enough of a spotlight for her. The beautiful model stepped into fame in 2008, after announcing she was willing to give her virginity away if anyone presented her with 1 million euros. Cristiano Ronaldo must have got a free pass...
Sources: ronaldo7.net/record.pt/jornaldenegocios.pt/realmadrid.com

comments powered by