24.02.2011 » José Mourinho: "I don't know if C. Ronaldo is a striker or a winger"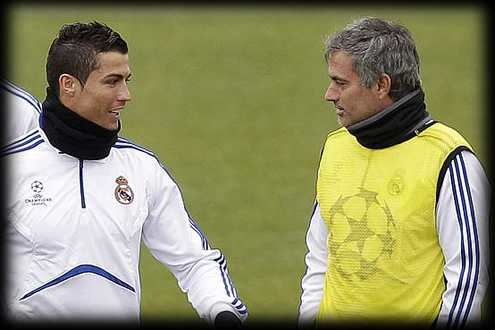 José Mourinho is unsure on Cristiano Ronaldo best performing position. CR7, who is a natural winger, has also developped into one of the most respected strikers this sport has ever seen.
Real Madrid coach José Mourinho, has admitted that he is unsure whether Cristiano Ronaldo can be regarded as a striker or a winger, since he sees him as an unique blend of both styles.

The "Special One" spoke in an interview with Sky Sports "Revista de la Liga" show, in which he discussed the impact of Cristiano Ronaldo on his tactics, as well as the daunting prospect of overcoming Barcelona this season, both domestically and in Europe.

Speaking firstly of his Portuguese attacker, the former Chelsea, Inter and F.C. Porto manager remarked: "We try to find a position that is the most comfortable for Cristiano Ronaldo, and there is always the debate. Is he a forward? I don't think that he is. I think he is great when one-on-one against a rival. Is he a winger? No, because he is also a goalscorer and when you are a winger, how many goals do you score in a season, half a dozen? I think that he is the mixture of two things. He is in great shape and he's more mature now. He has everything."

Mourinho also discussed the response of his players after the 5-0 humiliation suffered at the hands of rivals Barcelona, and admitted that although it was difficult to overcome, his players have recovered from the ordeal very well. "Everyone was deflated, I remember the next meeting at home to Valencia, I would not say that people were afraid, but clearly they were not comfortable. It is quite normal after a defeat like that, but the team recovered well and that's what matters the most. We need to keep winning games like we are doing right now. This season we have a very young group, the youngest in the history of Real Madrid and I believe that we are doing well, although we need to win something at the end of the season."

Finally, when asked if he will see out his four-year deal at the Santiago Bernabéu, he remained non-committal, concluding: "I do not know. I love Chelsea, and when I was in London I was the happiest man. I thought I would be there all my life, and a few months later I was out. So you never know. If everything goes in the right direction, I will stay for sure."
Real Madrid and Cristiano Ronaldo will play this Saturday against Deportivo de La Coruña and Ronaldo seems to be fit for the match, even though there were some doubts earlier today after the Portuguese player complained about some pains on his ankle, origined by an harsh tackle from Cris, in the match Lyon vs Real Madrid.

Sources: ronaldo7.net/goal.com

comments powered by