22.02.2011 » Lyon 1-1 Real Madrid. Benzema comes to the rescue. CR7 hit the post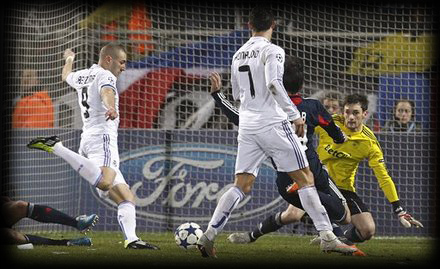 Real Madrid got a draw from Lyon and is now in advantage for the 2nd leg. Benzema and Gomis scored the goals, but Cristiano Ronaldo also made some good efforts that could have ended in goal. Ronaldo stunning freekick hit the post in what would have been one of the goals of the year.
Early pressure by Lyon put Real Madrid in a bind. Nine players would retreat when they lost the ball, they prevented Real Madrid from circulating and they provoked one turnover after the next. Even then, Iker Casillas' only notable intervention came on 33', when he got an elbow to a Gomis strike.  Real Madrid created few opportunities before a Cristiano Ronaldo free-kick that Lloris punched clear will little signs of trouble. The first half came to a close with a Lyon charge led by Bastos and Gomis, but Ricardo Carvalho and Pepe managed to bring it to a quick halt.
An energized Real Madrid took the pitch for the restart and in no time wreaked havoc on the Lyon defense. Cristiano Ronaldo hit the left post with a free-kick on 48' and one minute later Serio Ramos' header following a corner kick taken by Ozil struck the top of the crossbar. On the 63th minute, the referee failed to call a penalty after a free-kick struck off the elbow of Delgado inside the Lyon box. José Mourinho subsequently replaced Adebayor with Karim Benzema and the move immediately paid off. The Frenchman stole the ball on the left flank and passed to Ozil, who then found Cristiano Ronaldo. The Portuguese international dumped the ball to Karim Benzema, who withstood pressure from Reveillere and before going to the ground shoved the ball through the keeper's legs and into the back of the net.
Both teams made changes following the goal. Lass Diara replaced Khedira and Marcelo stepped in for Ozil, while Pjanic came on for Lyon and soon thereafter initiated the play that resulted in the equalizer. The Bosnian curled in a free-kick, the ball struck off Cris' head and Gomis fired the deflection into the net. Lyon continued to pressure during the late stages of the match, but Real Madrid were organized and steadfast and managed to hold on to the draw with the second leg scheduled for the 16th of March at the Santiago Bernabeu.
Sources: ronaldo7.net/realmadrid.com

comments powered by