21.02.2011 » Cristiano Ronaldo: "Sometimes it's hard to hold back."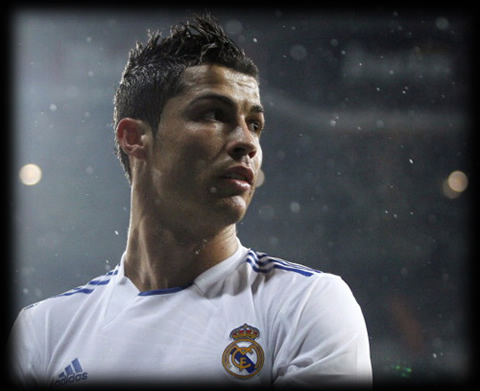 Cristiano Ronaldo granted a new interview to newspaper "As" and assured he still believes in winning the Spanish League this season. CR7 approached several topics and also confessed his admiration for Barcelona players, Xavi and Iniesta.
Cristiano Ronaldo granted an interview to Spanish newspaper "As" and assumed that his going through his best moment on his career. CR7 explained that the fact he works with José Mourinho everyday, helps on that. The portuguese player confessed that Mourinho helps removing some of the pressure that usually is upon him.
Cristiano Ronaldo: "I was very happy when Mourinho came to Real Madrid. The fact is that since he arrived, the critics about me slowed down a bit. Mourinho has power, moral, titles and knows what he says. There are a lot of persons who doesn't like him, but he's not an hypocrite and always says what he thinks. I hope to achieve many titles with him."
Then popped up an usual question. Cristiano Ronaldo afirmed again that his attitude on the pitch won't be affected whatever the opponents supporters do. Ronaldo: "They can enter the game pitch and catch me because that won't be enough for me to change the way I play. Those who don't like it, can stay at home. I'm not made of iron and I'm aware we can't do some sort of gestures, but it's easy to talk about auto-control, when we're sitted at home, in the couch. When we're involved in a match with a lot of pressure and many people are insulting you or telling things about your mother, it's hard to hold back. I try not to respond and channel those kind of things to movitave me more doing my job."
The 5 points differential gap between Real Madrid and Barcelona don't make Cristiano Ronaldo give up on his expectations of winning the Spanish League. The portuguese player is aware it's a difficult task, but believes it's possible: "In football anything can happen. In the match against Sporting Gijón, Barcelona had around 70% of ball possession, and still, only managed to score 1 goal. Last Sunday, they struggled a bit against Athletic Bilbao. This just demonstrates that football is very complicated. We can win the league. We know it's hard, but we already managed to close the gap from 7 to 5 points and who knows if next week we won' be just 2 points apart..."
Then another popular question came from "As", which is the alleged bad relationship Cristiano Ronaldo has with some of his teammates. CR7 once again answered clearly: "It's all made up. When I'm in a good form, playing well in matches and scoring goals, it seems people have some interest in making up something about me. In Portugal it's exactly the same. Here, people said I had a bad relationship with Iker Casillas and I have no idea where that came from. Then, they said Casillas gave me advices to not respond in a bad manner to supporters. Those are lies which tire me and I don't like them. People should always know the truth." Ronaldo then added: "Thank God, I have a good relationship with everyone. Even though I am more friend of some than others, that's just a normal thing in life. That's something you can even see at a school level. I got a great relationship with Marcelo, Pepe, Ricardo Carvalho, Kaká... I'm very close with those who can speak portuguese, because of the language, but I get along pretty well as well with the likes of Sergio Ramos, Casillas, Arbeloa or Xabi Alonso for example. They all help me a lot, they are team players and it's a phenomenal group to work with."
One of the most interesting questions came when the journalist asked Cristiano Ronaldo about the importance of Xavi and Iniesta in Barcelona. Ronaldo: "They both won the European and the World Cup. We're not talking about average players, we're talking about enormous players."
On a side note, Cristiano Ronaldo released a statement earlier today, rejecting the involvement and having had any kind of relations with Karima El Mahroud, the model known as "Ruby hearts stealer", whom the Italian Prime Minister allegedly paid in, in exchange for sexual favors, while the women was still a minor.
Cristiano Ronaldo: "Some international media now claim that I had sex with Karima El Mahroud (Ruby), the central figure in a sex scandal that has involved the Italian Prime Minister, upon the payment of a certain fee and knowing she was still a minor. Once again, I'm being victim of bad and unacceptable journalism. As in previous occasions, I will have no regards for those involved with such sordid stories linked to my name, without the slightest respect for the dignity of the rules of their own profession."
Silvion Berlusconi is currently on trial, for allegedly paying for sexual favors to "Ruby", when she was still a minor, between February and May 2010, and to intervene with the police on having the girl being released after an arrest for robbery, on the evening of May 27 or 28, in Milan. Both Berlusconi and Ruby denied any sexual involvement. The teenager, who turned 18 in November 2010, admitted participating in dinners "completely normal and healthy." Last week, Ruby, became the main cover of a controversy publicity campaign, where she appears in lingerie.
Football wise, we remember Real Madrid will play this Tuesday against Olympique Lyon, in a match regarding the first leg of the UEFA Champions League.

Sources: ronaldo7.net/record.pt/dn.pt

comments powered by