19.11.2011 » Valencia 2-3 Real Madrid. Tough battle with happy ending in Mestalla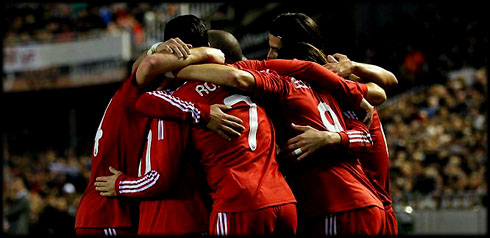 Real Madrid and Barcelona undisputed supremacy in "La Liga" is rarely tested in Spain. But if there's a pitch where the two Spanish giants have reasons to anticipate troubles, that's the Mestalla, home of Valencia CF. Real Madrid managed to pull off a valuable 2-3 victory over Valencia tonight, with goals from Karim Benzema, Sergio Ramos and Cristiano Ronaldo.


Real Madrid revealed their fighting spirit in a match held last night in Mestalla against Valencia CF, after beating the local team by 2-3 and keeping the 3-points lead over Barcelona. The "Merengues" were always in the lead, but Valencia never threw the towel and pressured Madrid until the referee's last whistle. Cristiano Ronaldo scored another goal, his 14th in "La Liga" this season. Karim Benzema, with the opener and Sergio Ramos in the second period, scored the other "Merengues" goals in this match.
Watch Cristiano Ronaldo game photos in Valencia vs Portugal
Watch Valencia 2-3 Real Madrid video highlights, including Cristiano Ronaldo goal: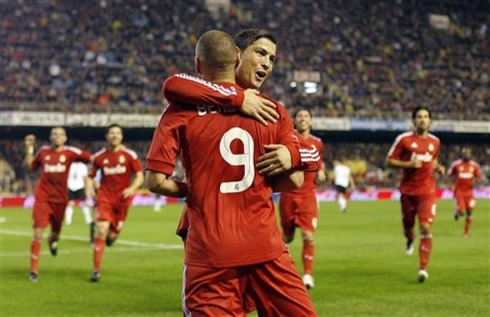 Contrary to what usually happens, Valencia managed to pressure Real Madrid during the first minutes of the game, preventing the "Merengues" from having the ball and pass it around with safety, like it's their custom in the Spanish League. However, Unai Emery's Valencia squad, slowly started losing their flame and José Mourinho's men seized the opportunity to take control of the game. Near the 20th minute, Xabi Alonso took a quick free-kick to assist Karim Benzema for the opener. Real Madrid caught Valencia off-guard and took the lead in a game that still had much to be said further on.
The game kept being well disputed but the score wouldn't suffer any further change until half-time. The second period started with a slow pace, but curiously, it didn't take too long for the players to get involved in multiple incidents and those usual "fights" commonly seen in football pitches. An immediate consequence was a lot of yellow cards being shown to several players. From that point on, Valencia slighltly changed their strategy and started insisting a lot in exagerated dives, in order to force any Real Madrid player to be shown the red card. Thankfully, the referee didn't play along with this dirty tactic and the game kept being played 11 against 11.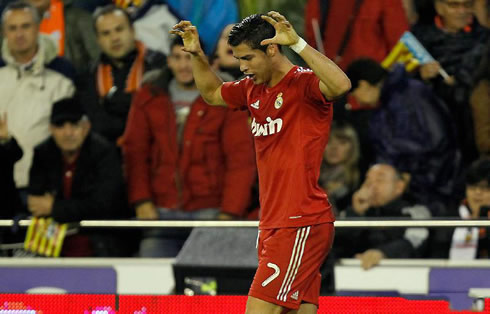 As expected, the game would have its excitement peak in the last 20 minutes and Real Madrid would manage to extend the lead to 0-2, with Sergio Ramos first "La Liga" goal this season, after heading the ball to the back of the net from a nicely taken corner kick. But Valencia response came roughly 5 minutes after, in the 75th minute of the game, after a rebound ending in Raul Soldado's feet, which Iker Casillas was unable to stop. The goal excited and thrilled the crowd and Real Madrid ended by accusing the pressure in the last quarter of the game.
Just one minute after reducing the lead to 1-2, Valencia nearly got the equaliser, but after missing a great chance, they ended up by suffering another blow, this time from Cristiano Ronaldo, close to the 77th minute. The Portuguese player was faster than Valencia's goalkeeper Diego Alves and even from a narrow angle, he added another goal to his tally and put the score into 1-3. Valencia still had a final word to say on this game and 5 minutes later, Soldado, a former Real Madrid player, would score his second of the night and put the lead again at just 1 goal difference. With 7 minutes left plus added time, Valencia pushed forward and managed to put Real Madrid against the ropes in the final moments of the game. However, the Merengues showed a tremendous resilience and fighting spirit, which allowed them to keep this tremendously important victory. Real Madrid keeps ahead of Barcelona in the Spanish League, preserving the 3 points gap between the two teams, just one week before the "Merengues" host Atletico Madrid in the Santiago Bernabéu.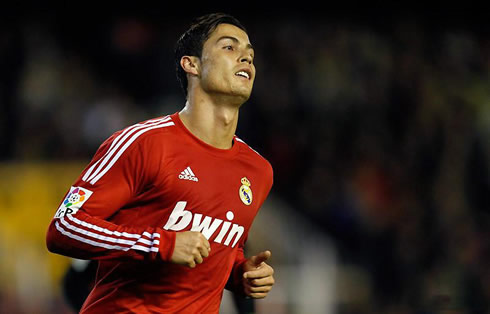 Real Madrid line-up vs Valencia:
Goalkeeper: Iker Casillas
Defenders: Marcelo, Pepe, Sergio Ramos, Arbeloa
Midfielders: Lass Diarra, Xabi Alonso, Sami Khedira
Attackers: Ozil, Cristiano Ronaldo, Benzema.
Match stats provided by www.ronaldo7.net

2

Goals

3

1

Assists

3

14

Shots

11

5

Shots on goal

4

5

Corner kicks

2

22

Fouls commited

19

3

Yellow cards

7

0

Red cards

0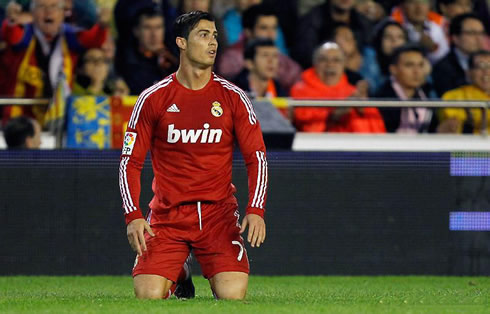 Watch Cristiano Ronaldo goal and José Mourinho funny celebration:
After a tough win against Valencia in the "Mestalla" stadium, Real Madrid next match is against Dinamo Zagreb, for the UEFA Champions League, in the 22th of November 2011. Tomorrow, you can watch Chelsea vs Liverpool in our football live streams.

Sources: ronaldo7.net / record.pt / realmadrid.com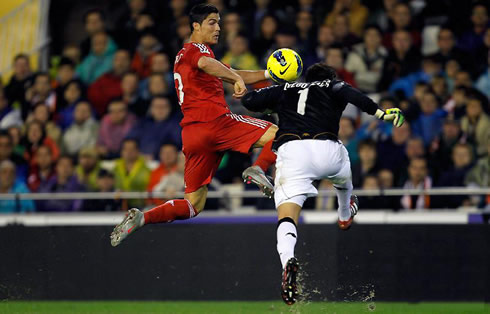 comments powered by