02.11.2011 » Lyon 0-2 Real Madrid. Ronaldo breaches the French wall with 2 goals
Real Madrid assured their ticket for the UEFA Champions League last-16 stage, after dominating and beating Olympique Lyon by 0-2. Cristiano Ronaldo was the man of the match, after scoring both goals, including the opener from a free-kick, which was his 100th goal for Real Madrid.


Real Madrid kept their perfect record in the UEFA Champions League, after defeating Olympique Lyon by 0-2, in the Gerland stadium. The Merengues now have 4 wins in 4 matches and just secured their place in the last-16 stage. Cristiano Ronaldo scored the 2 goals of this match, scoring his 100th and 101st goal since his arrival to Real Madrid, in 2009. For the first time in Real Madrid's history, the club won in the Gerland stadium and brought home the 3 points, leaving no room to dispute the merit of the win.
Watch Cristiano Ronaldo game photos in Lyon vs Real Madrid
Watch Lyon 0-2 Real Madrid highlights video, including Cristiano Ronaldo goals: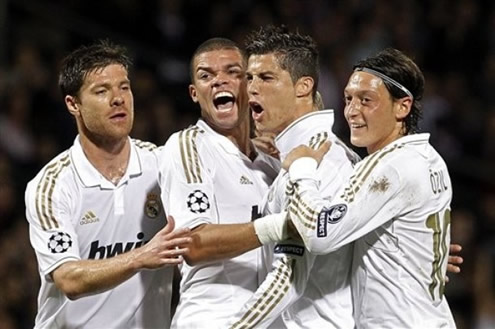 It's no surprise to anyone if we start by noting that Lyon has been losing influence in the UEFA Champions League over the last years. Moreover, the French side faced Real Madrid last night with a few key players side-lined, like the Argentinian Lisandro Lopez and the Brazilian Michel Bastos. In the other hand, Real Madrid travelled to France with all the big guns (except for Nuri Sahin who is still finishing his recovery plan) and outplayed Lyon, bringing a valuable win to the Santiago Bernabéu.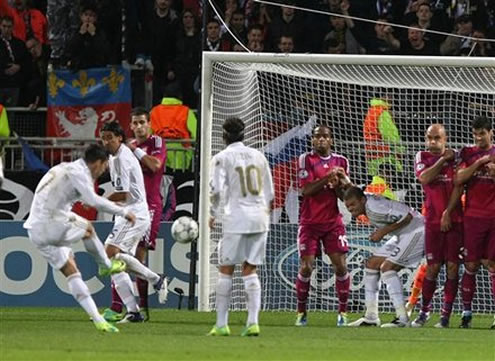 The game was prone in having goalscoring chances, but Hugo Lloris and Iker Casillas showed why they are regarded as some of the best goalkeepers in the game. Real Madrid couldn't score an early goal, as they've been doing in their last matches, but Cristiano Ronaldo opened the can close to the 24th minute, from a precise free-kick, scoring his 100th goal for Real Madrid since he joined the club in 2009. Every Real Madrid opponent should already know by now, that when a free-kick is granted to Cristiano Ronaldo so close to the area, the Portuguese usually sees it as a penalty-kick. The outcome was predictable and Ronaldo blasted the ball to the back of the net, leaving no chance for Hugo Lloris to stop it.
The game kept being dominated by Real Madrid, but from time to time, Lyon also found their way to threaten Iker Casillas. The French side went after the equaliser, but Real Madrid managed to get another clean sheet, which makes it their 5th game in a row without conceding a single goal. However, the game wouldn't end without another goal from Cristiano Ronaldo. The Portuguese player got tackled inside the penalty area, near the 69th minute and as usual, CR7 didn't miss the opportunity to add another goal to his tally. Lyon hopes of still pulling a good result got crashed on that moment and Real Madrid did their game to let the clock tick until the end. Cristiano Ronaldo played his 103th game wearing a Real Madrid jersey last night and scored his 101th goal for the club. Ronaldo has been on the pitch defending the Merengues ambitions for an exact period of 8741 minutes so far, in a journey that started in August 2009.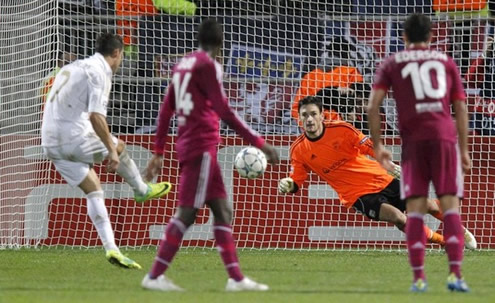 Real Madrid line-up vs Olympique Lyon:
Goalkeeper: Casillas
Defenders: Fábio Coentrão, Pepe, S. Ramos, Lass Diarra
Midfielders: Sami Khedira, Xabi Alonso
Attackers: Ozil, Di María, Cristiano Ronaldo and Benzema.
Match stats provided by www.ronaldo7.net

0

Goals

2

0

Assists

0

17

Shots

22

8

Shots on goal

11

9

Saves

8

6

Corner kicks

8

5

Offsides

4

13

Fouls commited

16

2

Yellow cards

4

0

Red cards

0

0

Penalty-kicks awarded

1
Real Madrid next match is against Osasuna this Sunday, for La Liga. You can watch Juventus live stream, Real Madrid vs Osasuna live, in our Football Live Streams section, but please note that this match will be played at a very unusual hour (11:00 GMT+0). The countdown clock timer, displaying the time left for the next Ronaldo game, is shown on the top right corner of all pages. Besides that game, you can also watch Manchester United vs Sunderland on Saturday, and Athletic Bilbao vs Barcelona on Sunday. All streamings are provided from our "Live" section.
Real Madrid vs Osasuna kickoff information:
6th of November, 2011:
11:00 (GMT+0) - London (U.K.), Lisbon (Portugal)
12:00 (GMT+1) - Madrid (Spain)

Sources: ronaldo7.net / marca.com / record.pt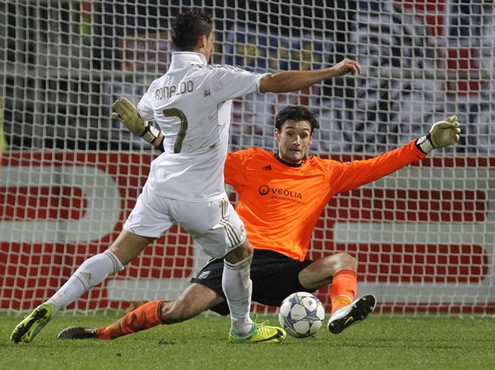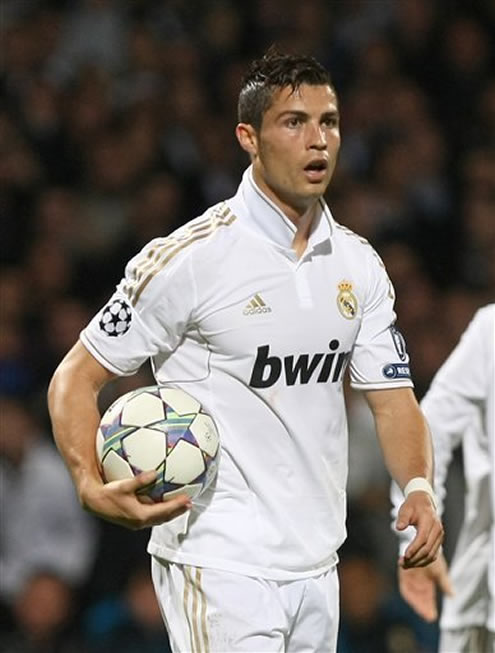 comments powered by