26.10.2011 » Real Madrid 3-0 Villarreal. Win by T.K.O. in the first 30 minutes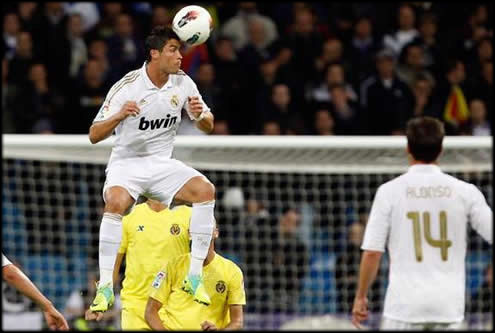 Real Madrid didn't lose much time to show Villarreal that this wasn't a game they could afford to lose. The Merengues scored 3 goals in the first 30 minutes and similarly to what they did against Malaga last weekend, Real Madrid decided the match outcome in the first-half.

Real Madrid defeated Villarreal by 3-0 and once again, the Merengues had a very strong start. In the first half an hour, Real Madrid didn't leave room for Villarreal to breathe and goals just happened naturally. Karim Benzema, Ricardo Kaká and Angel Di María were the goalscorers, and allowed the team to control the rest of the game without many problems. Real Madrid now have 31 goals scored out of 9 matches (an average of 3,4 goals per match) and remain chasing Levante on the 1st place of La Liga.
Cristiano Ronaldo game photos in Real Madrid vs Villarreal
Real Madrid 3-0 Villarreal goals and highlights: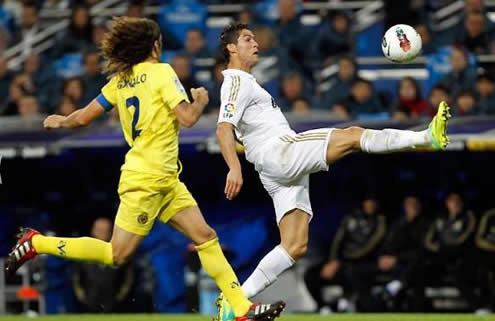 There were some expectations to see if Cristiano Ronaldo would score his 100th goal for Real Madrid against Villarreal. However, the Portuguese player couldn't find his best form against the "yellow submarine" and delayed this symbolic mark for next weekend, when Real Madrid faces Real Sociedad. The Merengues showed a clear intention of deciding the game as early as possible and Mourinho can only be happy with his team's performance in the first half an hour. High-pressure and fast passing, resulted in many goal scoring chances created in those 30 minutes, in a similar way to what happened against Malaga, in the last weekend.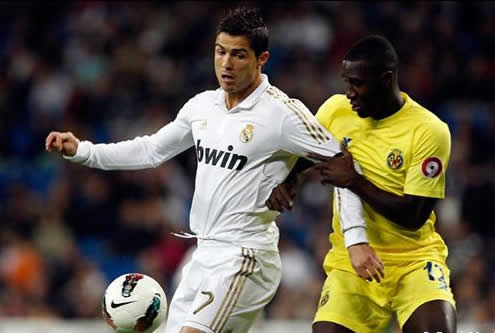 Karim Benzema scored the opener around the 5th minute, from a great pass by Angel Di María, which the French controlled exemplarily before lobbing the ball over the goalkeeper, Diego Lopez. The game didn't slow down at all and just 6 minutes later, Kaká was granted some space already inside Villarreal's penalty area, and showed all his class in a left-foot strike that would only stop on the back of the net. Real Madrid was delighting every one on the stadium with an impressive start and Villarreal didn't seem capable of escaping to a humilliating result in the Santiago Bernabéu.
Near the 30th minute, Benzema returned the favor to Angel Di María and assisted the Argentinian in a fast counter-attack, as only Real Madrid is capable of. Di María took advantage of his great speed and found himself with only Diego Lopez in front of him. "Angelito" easily touched the ball to the far post and set the final score as 3-0. In an analogy with fighting sports, Real Madrid had just made a T.K.O. (Technical Knock-Out) to Villarreal in the first-half and the rest of the game got played at a very slower pace. The Spanish "La Liga" will return this next weekend and Real Madrid will be tested against Real Sociedad, on Saturday night.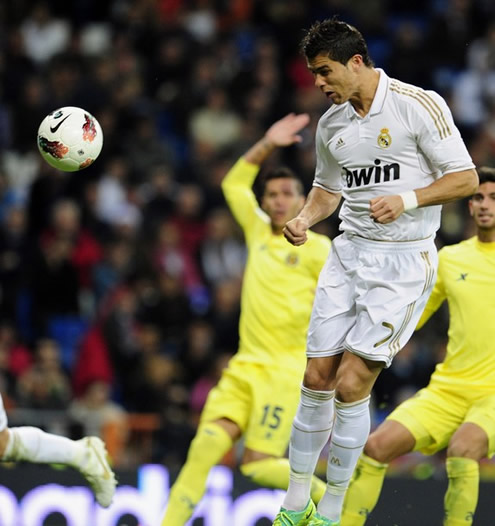 Real Madrid line-up vs Villarreal:
Goalkeeper: Casillas
Defenders: Marcelo, Pepe, S. Ramos, Arbeloa
Midfielders: Khedira, Xabi Alonso
Attackers: Kaká, Di María, Cristiano Ronaldo and Benzema.
Real Madrid will now play against Real Sociedad this Saturday, for La Liga. You can watch Juventus live stream, Real Sociedad vs Real Madrid, in our Soccer Live Streams section. The countdown clock timer, displaying the time left for the next Ronaldo game, is shown on the top right corner of all pages. Besides that game, you can also follow the English Premier League next Saturday and watch Everton vs Manchester United free. In a La Liga fixture, you may watch Barcelona vs Mallorca live. All streamings are provided from our "Live" section.
Real Sociedad vs Real Madrid kickoff information:
29th of October, 2011:
21:00 (GMT+1) - London (U.K.), Lisbon (Portugal)
22:00 (GMT+2) - Madrid (Spain)
04:00 (GMT+8) - Beijing (Sunday)
12:00 (GMT-8) - Los Angeles (USA)
Sources: ronaldo7.net

comments powered by