23.10.2011 » Ronaldo: "I didn't bring the ball, because I have no more space left"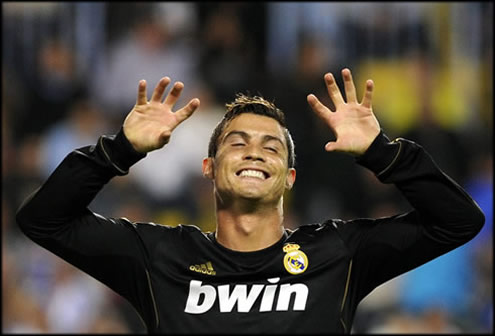 Last Saturday night was definately worth remembering for several reasons. Not only Real Madrid ran over Malaga in a mesmerizing first-half, but also Cristiano Ronaldo scored his 11th hat-trick for Real Madrid. The Portuguese player decided not to keep the game ball for himself and justified ironically, by saying he has no more space left at home.

Those who attempted to suggest that Cristiano Ronaldo was losing his nose for goal were proved wrong last Saturday night, as the Portuguese player put on a show against Malaga. Ronaldo scored his 11th hat-trick since he arrived to Madrid, a fact which probably helps understanding why he decided not to bring the ball game home, after Real Madrid crushed Malaga by 0-4. As usual, Ronaldo showed his preseverance during the entire game and he ended up rewarded with a glorious night, on which he showed all his happiness with some new dancing celebrations moves with Marcelo.
Watch Cristiano Ronaldo dream performance highlights against Malaga:
With his last hat-trick, Cristiano Ronaldo is close to the 100th goal mark for Real Madrid and the Portuguese obviously expects to reach that target as soon as possible. Ronaldo: "I hope I can reach 100 goals for Real Madrid still this season." If nothing unusual happens and Ronaldo stays fit, he'll surelly achieve that missing goal in the next fixtures. Real Madrid will take Villarreal this Wednesday and will travel to Real Sociedad on Sunday, to close their agenda for October.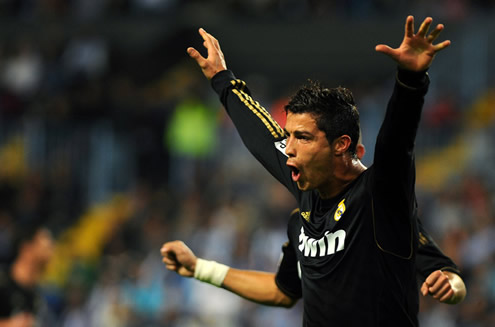 Cristiano Ronaldo: "I'm not going to bring the game ball home, because I have no more space left", said CR7 to the journalists, clearly showing he was in a good mood after the game in "La Rosaleda". Ronaldo then added: "I'm very happy for the three goals I've scored, but the most important thing was the team's victory. Sometimes I assist my teammates for goals and others I just take my chances to score. That's what a team is all about and that's how it works here."
In a short but direct analysis to the game, the Portuguese star had no problems in admitting that there was not much in dispute on the 2nd half: "Our first 45 minutes were fantastic and we won the game right there. We didn't play very well in the 2nd half, but that's a normal thing to happen in these circumstances. We get tired and we tend to slow down things. However, we had already decided the game in the 1st half." assured Ronaldo in a confident way.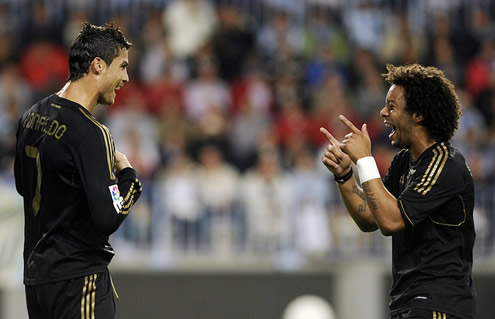 José Mourinho also commented the outcome of the match and he agrees to some extent with Cristiano Ronaldo's insights on the game. Mourinho: "We had a spectacular first-half. I loved every bit of it. The first touch, the combinations plays and the way we immediatly pressured after losing the ball. We've also managed to score goals from a wide diversity of solutions we got. However, I knew it wouldn't be possible to repeat that performance in the 2nd half and we lowered our concentrations levels. The final scored could have easily been a 4-2 or 5-2.", admitted the "Special One".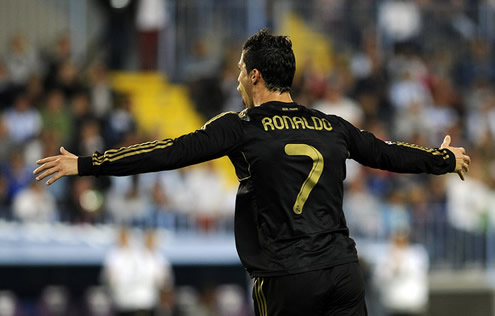 Real Madrid will now take Villarreal for La Liga, this Wednesday. You can watch Juventus live stream, Real Madrid vs Villarreal live, in our Soccer Live Streams section. The countdown clock timer, displaying the time left for the next Ronaldo game, is shown on the top right corner of all pages. Besides that game, you can also watch the Carling Cup this Tuesday, with the Aldershot vs Manchester United streaming, and La Liga with Granada vs Barcelona online. All streamings are provided from our "Live" section.
Real Madrid vs Villarreal kickoff information:
26th of October, 2011:
19:00 (GMT+1) - London (U.K.), Lisbon (Portugal)
20:00 (GMT+2) - Madrid (Spain)
02:00 (GMT+8) - Beijing (Thursday)
10:00 (GMT-8) - Los Angeles (USA)
Sources: ronaldo7.net / record.pt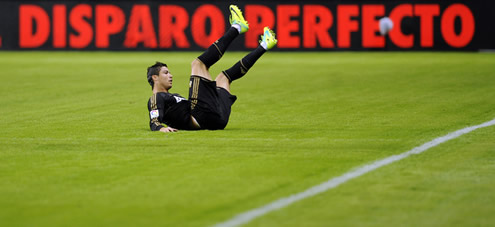 comments powered by