22.10.2011 » Malaga 0-4 Real Madrid. Cristiano Ronaldo is back to dancing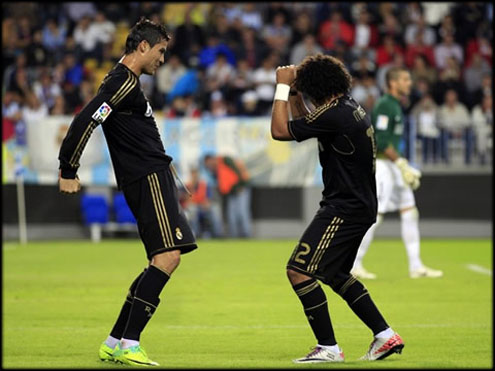 Real Madrid crushed Malaga last night, after taking an unexpected easy win by 0-4. Cristiano Ronaldo returned to goals after 3 matches without scoring and he did it in style. The Portuguese player contributed to the win with another hat-trick and a tremendous performance.

Few expected that Real Madrid had such an easy task, when the Merengues traveled to "La Rosaleda" to face Malaga. José Mourinho men imposed in the game with a 0-4 victory and Cristiano Ronaldo returned to his good old days performances, after scoring a terrific hat-trick, which he celebrated with some new dancing moves. The Spanish League has seen the tables being turned, as Real Madrid clinched the 1st place in "La Liga", after Barcelona dropped 2 points at home against Sevilla, in a scoreless draw in the Camp Nou.
Watch Cristiano Ronaldo photos in Malaga vs Real Madrid
Malaga 0-4 Real Madrid highlights, including Cristiano Ronaldo goals (hat-trick):
Everyone predicted a balanced game between the two teams, but Mourinho's decision to leave Ozil on the bench and bringing Kaká to the line-up seem to have worked like a charm. Real Madrid started the game with a very good attitude creating good offensive plays and revealing an effective high-pressure stance, everytime they didn't have the ball. When talent is combined with hard-working and effort, we certainly obtain a recipe for success and that's what this Real Madrid team has shown us tonight, during the first half of the game. One of the best displays I can remember of, since José Mourinho took the reins at the club.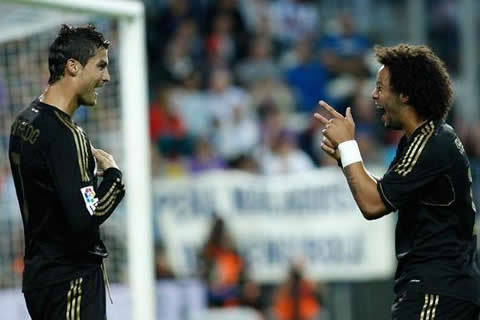 After a controversial start, where both Real Madrid and Sevilla claimed for a penalty kick each, from plays involving Cristiano Ronaldo and Joaquín respectivelly, the Merengues would slowly take control of the game and reach the first goal in the 11th minute. Angel Di María found Gonzalo Higuaín, who had just escaped the defenders, and received the ball in movement just before getting past Malaga's goalkeeper, Rubén, for an easy finish. The first blow in Manuel Pelegrini's side was given, but Real Madrid wouldn't exactly slow down from that point on, since Cristiano Ronaldo was feeling inspired.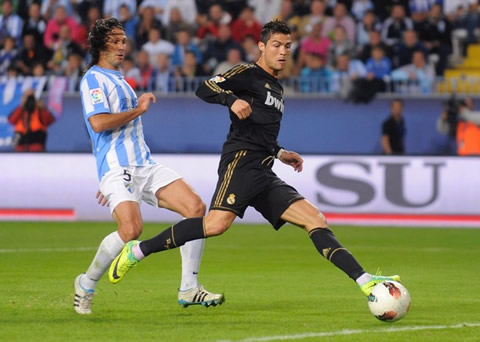 Around the 23th minute, Angel Di María found some space on the right wing and assisted Cristiano Ronaldo for the 0-2, in what was a magnific guided cross to the Portuguese player feet. The count was at two assists for Di Maria, a two goal lead and a hungry Ronaldo for goals, since he didn't score in the last 3 club fixtures. Just 5 minutes later, in the 28th minute, Cristiano Ronaldo got rid of two defenders before taking a crossed shot, that left no chance to Rúben and allowed Madrid to set the score at 0-3.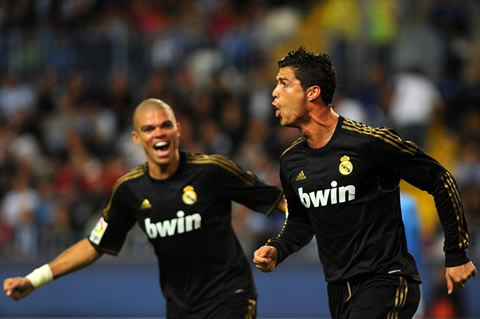 Malaga's hopes of a good result were almost collapsed at that point, but Ronaldo was on fire and he would still inflict more damage before half-time. In the 38th minute, CR7 scored another wonder goal for everyone to remember in the future, when he made an acrobatic gesture to brilliantly score with his back heel. A funny moment produced in this game was certainly when Cristiano Ronaldo went back to his dancing celebrations with Marcelo, in what appeared to be a choreography to the song "Michel Teló - Ai Se Eu Te Pego". Cristiano Ronaldo isn't the first football player showing his good taste for this kind of music, since Neymar himself, was also caught dancing to this tune recently, in a popular Brazilian TV show called "Faustão" and inside Santos locker room. Check the videos below and tell us who has the best moves: Cristiano Ronaldo or Neymar?
Cristiano Ronaldo dancing celebrations with Marcelo against Malaga:

Neymar dancing the song: "Michel Teló - Ai Se Eu Te Pego"

The feeling of a job well done was evident on everyone's face in Real Madrid and the score wouldn't suffer any further changes. Mourinho has most likely given instructions to slow down the tempo of the game and the second half showed us a Malaga side trying to react, while Real Madrid, knowing they had a big lead that allowed them to rest a bit, limited to control the match and start preparing the upcoming fixtures scheduled for the next days. With this result, Real Madrid has passed Barcelona in La Liga's table, since the Blaugrana couldn't get more than a goalless draw against Sevilla, in the Camp Nou. Sevilla ended that match with 9 men on the field and Lionel Messi even missed a penalty-kick in the 94th minute, defended by a heroic Javi Varas. Cristiano Ronaldo is now tied with Messi in the Pichichi table, since both players count with 10 goals each.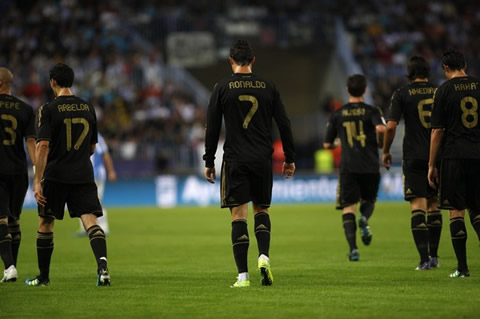 Real Madrid line-up vs Malaga:
Goalkeeper: Casillas
Defenders: Marcelo, Pepe, S. Ramos, Arbeloa
Midfielders: Khedira, Xabi Alonso
Attackers: Kaká, Di María, Cristiano Ronaldo and Higuaín.
Real Madrid will now play against Villarreal for La Liga, next Wednesday. Tomorrow you can watch Queens Park Rangers vs Chelsea live, in our Football Live Streams section. The countdown clock timer, displaying the time left for the next Ronaldo game, is shown on the top right corner of all pages. Besides that game, you can also watch the big game between Manchester United vs Manchester City streaming, and Hannover vs Bayern Munich live. All streamings are provided from our "Live" section.
Queens Park Rangers vs Chelsea kickoff information:
23th of October, 2011:
16:00 (GMT+1) - London (U.K.), Lisbon (Portugal)
17:00 (GMT+2) - Madrid (Spain)
23:00 (GMT+8) - Beijing (China)
07:00 (GMT-8) - Los Angeles (USA)
Sources: ronaldo7.net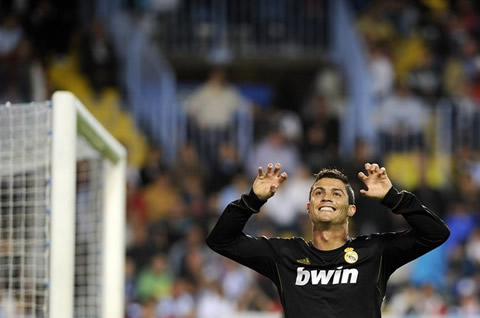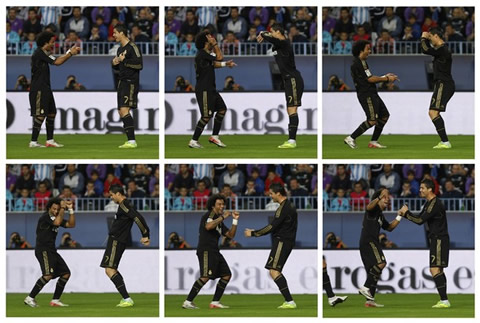 comments powered by