11.10.2011 » Denmark 2-1 Portugal. Ticket for Euro 2012 is delayed to November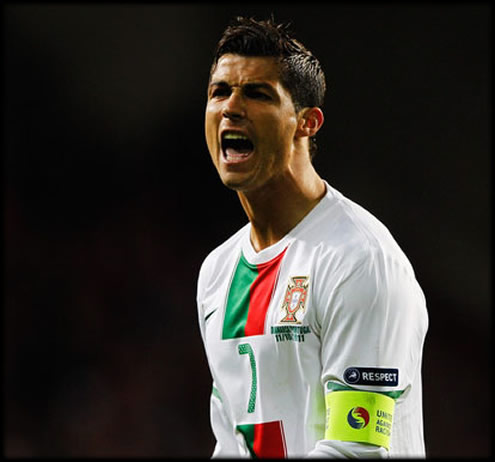 Portugal traveled to Copenhagen with hopes of assuring the qualification for the Euro 2012. However, Denmark soon showed that they were taking this game more seriously and dominated a very weak Portuguese side. Cristiano Ronaldo scored the lonely and late goal, from another stunning "tomahawk" free-kick set piece, but Portugal will now be forced to dispute a play-off in November.

Portugal didn't manage to book a place in Euro 2012 yet, after losing the clash against Denmark by 2-1. The Portuguese National Team will now be forced to play a 2-game playoff in November, against a still unknown opponent, in a last attempt to don't miss next Summer's big tournament. Cristiano Ronaldo, similarly to the rest of the Portuguese Team, didn't have a great night, but he still found the back of the net from his world-wide known "tomahawk" free-kick, near the end of the game. You may watch the goal below.
Watch Cristiano Ronaldo game photos vs Denmark
Watch Cristiano Ronaldo free-kick goal video vs Denmark: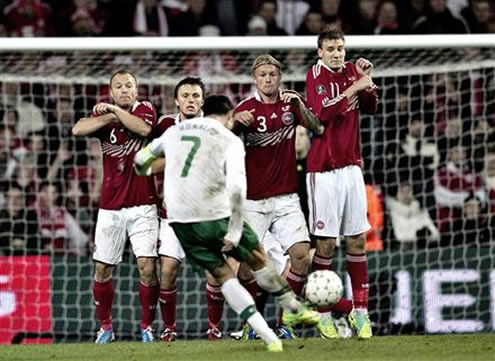 There was much at stake on this game, but even that fact didn't turn out to be enough for the Portuguese players to approach this game with a high-competitive approach. Denmark showed a more aggressive attitude and outclassed Portugal in every area of the game, having more ball possession and creating more dangerous plays than the "Lusitanos". This has probably been the worst Portugal game from Paulo Bento's era.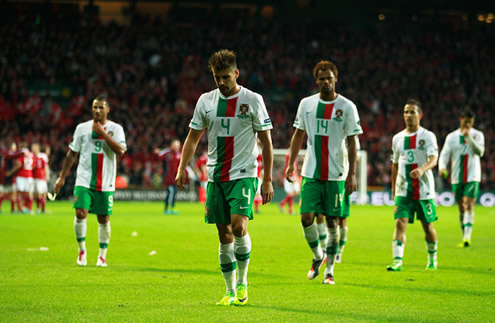 Denmark would take the lead early in the game, around the 14th minute, from a fortunate play. Krohn-Dehli, a Danish forward, got rid of João Pereira's marking and striked without hesitation. The ball got deflected in the F.C. Porto's defender, Rolando, and left no chance for Rui Patrício to stop the shot. Those who expected a Portuguese reaction were mistaken, as Portugal kept showing an alarming apathy, allowing the Danish to keep controlling the game.
The first half would end with the score untouched and Denmark took their 1 goal lead to the locker rooms. As the 2nd half started, Portugal had their best period in the entire game, mostly due to the fact that the midfield started to show enough capabilities to hold the ball longer. However, Cristiano Ronaldo, Nani and Hélder Postiga kept struggling to find spaces to breach and create danger. Slowly, Denmark would take over the game once more and didn't took too long for the Portuguese hopes in getting a good result to be crashed. In a counter-attack play near the 63th minute, Bendtner, who is currently playing for Sunderland on loan from Arsenal, showed he still has a good killer instinct and didn't have problems to finish a fast play started by the experienced Rommedahl.
Watch Cristiano Ronaldo stunning goal vs Denmark filmed from the crowd: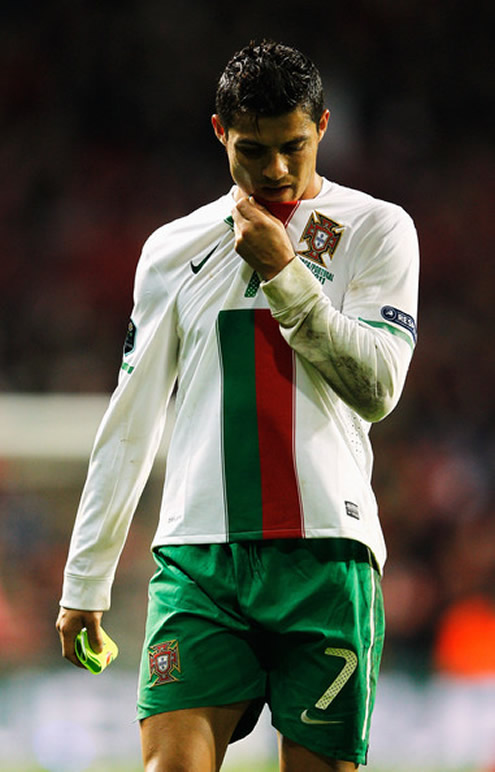 There was almost half an hour left to be played, but Portugal wasn't showing any signs of being able to turn this match around. As the game rushed to its end, Portuguese frustrations were coming to light and nothing good seemed to be achievable from this match. Denmark outplayed Portugal and the only reason for the result not be more expressive was a couple good saves by the Portuguese goal-keeper, Rui Patrício. Nevertheless, the highlight of the night would still come from Cristiano Ronaldo feet. In one of the few opportunities that Ronaldo had to attempt to score, the Portuguese didn't waste a free-kick set-piece, almost 30 meters away from goal. CR7 showed why he is regarded as one of best free-kick takers in the game, as he scored another anthology goal in his career, setting the final score into 2-1 for Denmark.
Portugal will now be forced to play in the Euro 2012 playoffs, against one of the following teams: Republic of Ireland, Bosnia and Herzegovina, Montenegro and Estonia. The draw will be made this Thursday and this 2-game playoff stage will be played in the 11 or 12th of November and on the 15th of November. Cristiano Ronaldo and his teammates will therefore have a last chance to make sure they won't miss Euro 2012 next Summer, to be held in Poland and Ukraine.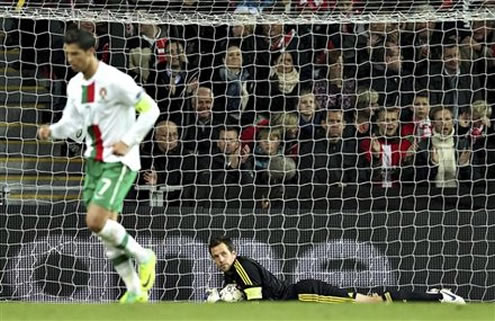 Portugal line-up vs Denmark:
Rui Patrício; Eliseu, Rolando, Bruno Alves, João Pereira; Carlos Martins, Raúl Meireles, João Moutinho; Nani, Cristiano Ronaldo and Hélder Postiga.
After playing against Denmark, Cristiano Ronaldo will now return to Madrid to start preparing the next fixture. You can watch Juventus live stream, Real Madrid vs Betis live stream this Saturday, in our Football Live Streams section. The countdown clock timer, displaying the time left for the next Ronaldo game, is shown on the top right corner of all pages. Next Saturday, the Premier League returns and you can watch the big rivalry clash between Liverpool vs Manchester United free, as well as Barcelona vs Racing Santander online. All streamings are provided from our "Live" section.
Real Madrid vs Betis kickoff information:
15th of October, 2011:
17:00 (GMT+1) - London (U.K.), Lisbon (Portugal)
18:00 (GMT+2) - Madrid (Spain)
00:00 (GMT+8) - Beijing (China) [Sunday]
08:00 (GMT-8) - Los Angeles (USA)
Sources: ronaldo7.net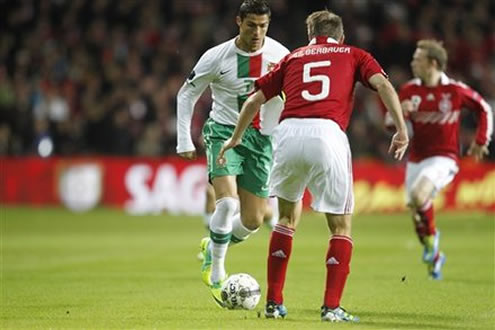 comments powered by