27.09.2011 » Pepe: "Mourinho and Cristiano Ronaldo are the best in the World"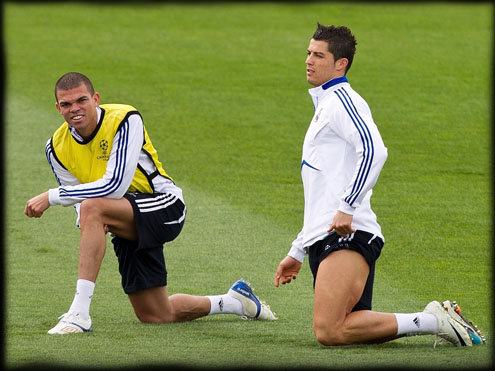 Pepe talked with the Portuguese newspaper "Publico" and pointed out that the reason why Mourinho and Cristiano Ronaldo create so much envy and frustrations is because they simply are the best in the World in what they do.

Real Madrid defender, Pepe, granted an interview to "Publico" (Portuguese newspaper) where he affirms that Cristiano Ronaldo and José Mourinho are the best in the World in their tasks as a player and coach. Pepe was keen to stress that the reason why they create so much envy and frustration in so many people, is because there is no one better than them out there.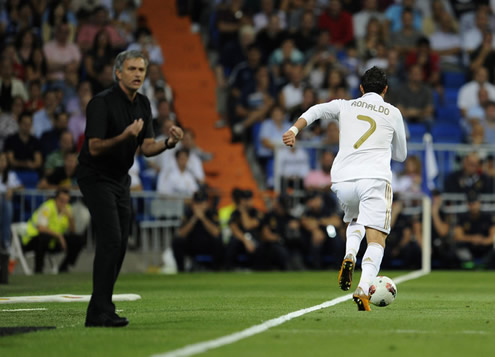 Pepe started the interview by explaining his controversial arrival to Madrid, after coming from F.C. Porto for a transfer fee of 30 million euros. Pepe: "When I came here, our previous president was afraid that I wasn't worth my price, which they that had just invested to bring me to the club. Many people thought that 30 million euros was too much to spend in a defender. For that reason, I was told that if I would manage to impose myself as a first choice, then I would have the chance to renew my contract with a better wage/salary. However and even though I had a great first season, Ramón Calderon left the club and Florentino Pérez came in. Since the verbal agreement wasn't made with him Florentino Pérez, I had a few problems to convince the new directors to pay me what I was worth, but hopefully everything worked out at the end."
The journalist then insisted on the topic and asked the Portuguese defender if it was true that he received offers from Chelsea, Manchester United, Manchester City and Inter Milan. Pepe: "It's true that many big clubs in Europe showed their interest in hiring me. However, I've always noted that my priority was to renew with Real Madrid. I would only leave if the club had chosen not to keep with me and if that would have been the case, then I would have to take a decision. But everything sorted out and I'm happy to keep being a part of the best club in the World. It was really great to be allowed to keep together with my teammates and everyone in this club."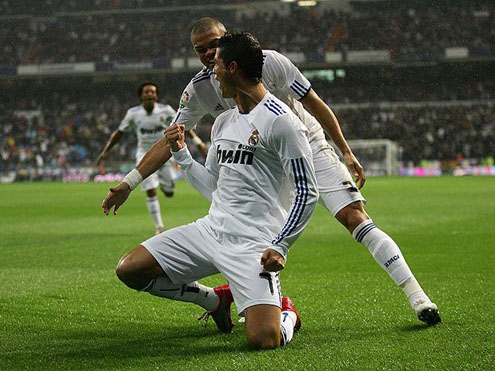 Pepe had an interesting statement that was revealed a few days before the agreement for his tranfer for Real Madrid became official: "I wouldn't go to Barcelona even if they offered me the twice more than Real Madrid does." The journalist asked Pepe if that was only a strategic move from his side, or if it was a true feeling. The answer was categorical, as Pepe immediatly replied: "No, no, that's indeed how I feel. That shows how much I respect those who approach me in the streets, or in other places, just to show me their support, ask for an autograph or to tell me how much they appreciate my work. Going to Barcelona would mean I would be traying all these wonderful people and I would never do that!", said the Portuguese player.
When Pepe arrived to Real Madrid, he affirmed that he had the wish of gaining a similar status as Fernando Hierro has at the club. Five years after the Portuguese player joined the Merengues, he's nothing more than proud with what he already achieved. Pepe: "I'm winning my space. One of the goals I had set has already been achieved. The objective was overcoming the "defenders curse" on this club. If you remember, back then Real Madrid was struggling in finding a reliable and stable player for the central defender position. Thankfully, nowadays that seems to be a thing from the past, which means I managed to overcome it. It's not easy to leave F.C. Porto and arrive to such a big league, with the weight and responsability of having costed 30 million euros. Moreover, trying to settle in a field position where many had failed in the recent past. Thank God, everything went well..."
An inevitable topic remains being the current Barcelona team. Pepe was asked if it is impossible to beat this Guardiola squad: "No and we already showed the World in the last two matches we played for the Spanish Super Cup. I believe we were better than them, and I think that Real Madrid has the best prepared team these days, to have the chance to beat Barcelona. We're on a good moment and this year we have plenty of quality to confront Barcelona or any other strong team." Pepe also praised Lionel Messi, but stressed out that Barcelona's true strenght comes from their colective: "Messi is an incredible player, but I believe that the most decisive and determinant factor remains being their colective strenght. They are very strong playing as a team and they have excellent players. But there must be a reason why Messi can't prove what he's worth when he plays for Argentina. That's just another reason why I believe that Barcelona's colective is what their strongest weapon.
José Mourinho and Cristiano Ronaldo had already confessed in the past, that the 5-0 ("manita") defeat suffered in the Nou Camp, in November 2010, was one of the most difficults results to "put behind" in their careers. Pepe shares the same feeling: "It was for me as well. We started that game deconcentrated, because we thought the match wouldn't be that hard. We were on a long winning streak, where he had been playing very well, with a lot of confidence. However, that game showed us that we should never relax and go into a game not 100% focused. Mourinho had alerted us for that possibility a few days before, but unfortunately, it was not enough."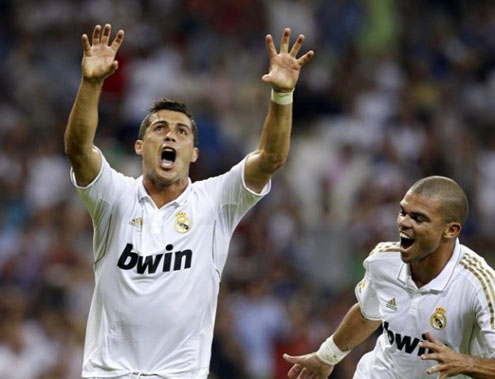 Over the last 5 years, Pepe has already met four different coaches, but José Mourinho definately has something special. After being coached by Bernd Schuster, Juande Ramos and Manuel Pellegrini, the Portuguese defender says: "What makes Mourinho different from the rest is the level of demand he has. He pays attention to all kind of details and he's very rigorous, in a way I've never seen in any other coach. He makes us feel that only when we give the best of ourselves we are doing a good job for a club as Real Madrid. Mourinho is indeed, the best coach in the World."
Pepe also shared his view on the reasons why Mourinho and Jorge Valdano conflicted in the club: "Mourinho wanted someone who could protect more the team and also be more coherent with his own statements. I think those were the main reasons for everything that ended up by happening." About the fact that Real Madrid could face some risks by having 4 Portuguese players, a coach and several other staff members also from Portugal, Pepe has no doubts: "No. We are all professionals and if we were hired by this club, that's because we have enough value to represent it. Portugal might be a small country, but it has already proved that it possesses a lot of quality football-wise. We're all here with the same objective and that is to help Real Madrid being champion and to win as most titles as possible."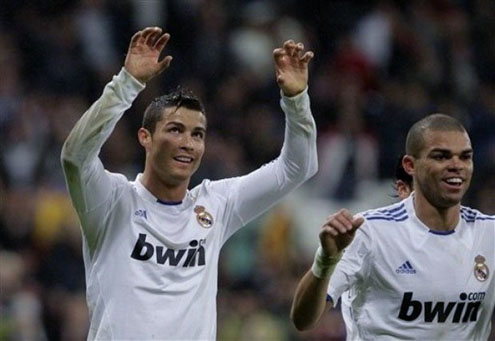 Winning the tenth UEFA Champions League for Real Madrid is becoming more than a dream for the Merengues fans and supporters. Some might even say that it has turned into an obsession. Pepe is confident towards that objective: "That will be an important accomplishment for all of us. The tenth is indeed a symbolic number, but it's important that us, as players, to avoid becoming obsessed with it. We should be determined, but always having in mind how hard it will be. We'll do everything we can to win the tenth UEFA Champions League for Real Madrid.
Before finishing, the journalist noted that in several places out there, Barcelona, Guardiola and Messi are seen as the good side in football, while in the other hand, Real Madrid, Mourinho and Cristiano Ronaldo are seen as the evil side in the game. Pepe replies to that, by pointing what he believes to be the reason for so much hate towards the club: "That's because we're part of the best club in the World. Cristiano Ronaldo as a player and José Mourinho as a coach, are simply the best in what they do. All that is prone in creating envy and frustrations in many people from different areas and backgrounds."
Pepe: "That has also something to do with the fact that both Cristiano Ronaldo and José Mourinho are very mediatic and "newsworthy", which just puts them on the headlines for every possible reason. That's also why so many people say bad things about them, even if they have to make up stories and lie about them. Unfortunately, that's how they can sell and survive in this industry. As a curiosity, we notice that a few others have a clear intention to show an opposite image. We have to learn to live with this reality..."
Real Madrid next game is against Ajax, for the UEFA Champions League, this Tuesday (27/09/2011). You can watch Juventus live stream, Real Madrid vs Ajax free streaming , inside our Live Games Streams section. Cristiano Ronaldo will be on the line-up. The countdown clock timer, displaying the time left for the next Ronaldo game, is shown on the top right corner of all pages. Besides Real Madrid, you can also watch Manchester United vs Basel online on Tuesday, and watch BATE Barisov vs Barcelona free on Wednesday, in our "Live" section.
Real Madrid vs Ajax kickoff information:
27th of September, 2011:
19:45 (GMT+1) - London (U.K.), Lisbon (Portugal)
20:45 (GMT+2) - Madrid (Spain)
02:45 (GMT+8) - Beijing (China) [Wednesday]
10:45 (GMT-8) - Los Angeles (USA)
Sources: publico.pt

comments powered by