24.09.2011 » Real Madrid 6-2 Rayo Vallecano. CR7 returns to goals with a hat-trick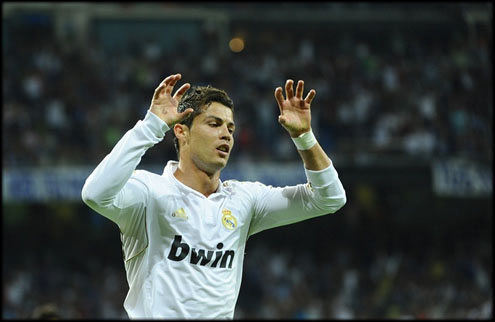 Real Madrid desperately needed a win against Rayo Vallecano and with a new hat-trick from Cristiano Ronaldo, the Merengues crashed their opponents with a 6-2 win. Mourinho men were forced to play with 10 men for more than half an hour, after Di María got sent off.

Cristiano Ronaldo ended his anxiety hunger for goals tonight, after having scored a new hat-trick in the 6-2 win that Real Madrid imposed to Rayo Vallecano. Ronaldo is now 2nd in La Liga's Pichichi run, with 7 goals, but the game only turned out to be easy during the 2nd half, when Real Madrid was already on the lead. Higuaín, Varane and Benzema scored the other goals of this game, but it was Kaká and CR7 who delighted the crowd with very good performances.
Watch Cristiano Ronaldo game photos in Real Madrid vs Rayo Vallecano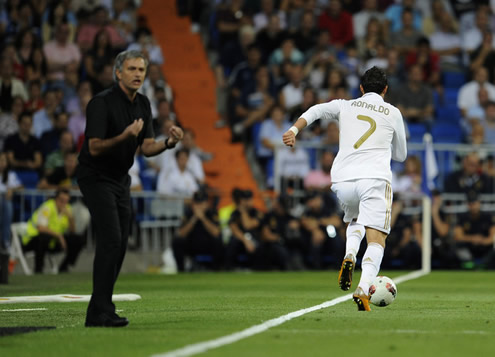 Rayo Vallecano scored a surprising opener goal, with just a few seconds played in the first half. It all started with Lassana Diarra failing a pass in a forbiden zone and a fast counter attack driven by the experienced Raúl Tamudo, who attempted to score from outside the area. Casillas stopped the first shot, but allowed a rebound just a few meters in front of him, which Michu took advantage to make it 0-1 in the Bernabéu.
Watch Real Madrid vs Rayo Vallecano goals and highlights video, including Cristiano Ronaldo hat-trick:
The game had started the worst possible way and Real Madrid was forced to quickly react to avoid a third negative result in a row. With half an hour played, José Mourinho decided to take some risks and replaced Lassana Diarra with Mesut Ozil, leaving the defensive tasks almost exclusively for Xabi Alonso. Real Madrid managed to push forward and Cristiano Ronaldo would tie the match around the 39th minute, in a fast counter attack play, where he got assisted by Kaká. Ronaldo left-kick shot would pass between the legs of Rayo Vallecano's goalkeeper, Dani and things were leveled up once more. Real Madrid became more edgy and determined after CR7's goal and would take the lead close to the half time, after a free-kick taken by Xabi Alonso, surgically directed to Sergio Ramos head, who in turn assisted Gonzalo Higuaín for an easy tap-in finish.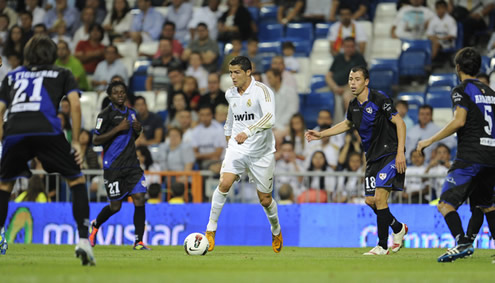 The 2nd half was promising an open game and the possibility of appearing many goal scoring chances was in everyone's mind. Those expectations were not defrauded and Kaká soon showed he still has in him what it takes to be one of the best in the World, as he dribbled several opponents before being tackled inside the penalty box. Cristiano Ronaldo took it and easily made the 3-1. However, Rayo Vallecano would reduce the score in the 55th minute, after a Real Madrid distraction in a defensive corner kick, allowing Michu to make his second of the night, shortening the Merengues lead to 3-2.
Just one minute later, Angel Di María deflected a pass with his hand and got shown his second yellow card of the match, being sent off as a result of that action. Real Madrid was then forced to play with 10 men for more than half an hour, but the Merengues managed to extend the lead later on, first from a corner with Varane finishing with a nice touch. Around the 73th minute, Benzema would score the 5th goal of his team, after a good play and assist from Ozil. The game rushed to its end and close to the 84th minute, Cristiano Ronaldo dribled Rayo Vallecano's goalkeeper and got tripped inside the penalty box. The Portuguese would take his second penalty kick of the night and as usual, he didn't miss and made his hat-trick, setting the final result as 6-2.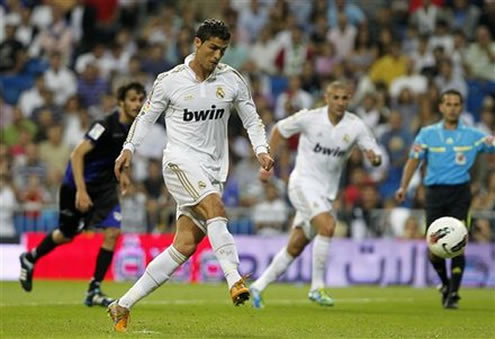 Real Madrid line-up vs Rayo Vallecano:
Casillas; Marcelo, Varane, Raúl Albiol, S. Ramos; Xabi Alonso, Lass Diarra, Kaká; Angel Di María, Cristiano Ronaldo and Higuaín.
Watch Cristiano Ronaldo goals and highlights in Real Madrid vs Rayo Vallecano:
Real Madrid will now host Ajax for the UEFA Champions League, next Tuesday (27/09/2011). You can watch Juventus live stream, Real Madrid vs Ajax live streams, inside our Live Games Streams section. Cristiano Ronaldo should be a starter, since he's fully recovered from his ankle injury. The countdown clock timer, displaying the time left for the next Ronaldo game, is shown on the top right corner of all pages. Don't forget that you'll also have the chance to watch Manchester United vs Basel live stream on Tuesday, and BATE Barisov vs Barcelona live stream on Wednesday, in our "Live" section.
Real Madrid vs Ajax kickoff information:
27th of September, 2011:
19:45 (GMT+1) - London (U.K.), Lisbon (Portugal)
20:45 (GMT+2) - Madrid (Spain)
02:45 (GMT+8) - Beijing (China) [Wednesday]
10:45 (GMT-8) - Los Angeles (USA)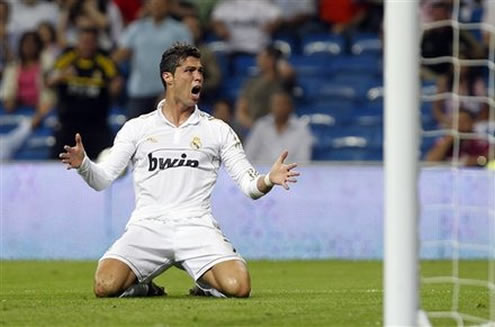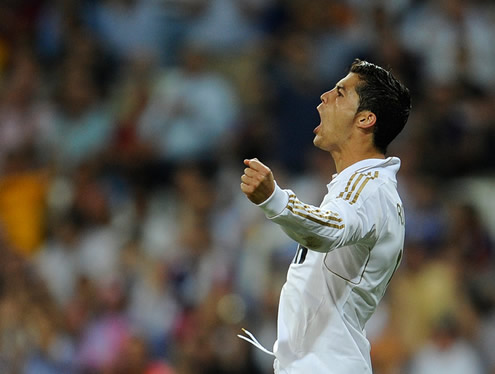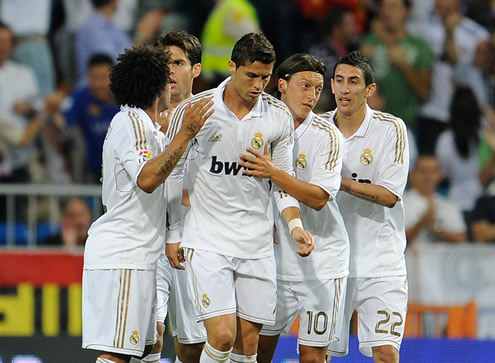 Sources: ronaldo7.net

comments powered by